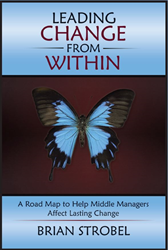 Strobel professes that leading change, and doing so effectively, will help define a company's competitive advantage.
Grand Rapids, MI (PRWEB) February 26, 2015
WestBow Press has released Brian Strobel's latest book, "Leading Change From Within." In his book, Strobel seeks to provide a strategic road map to help middle managers navigate through cultural change. His writing challenges many leadership concepts as practiced today within our organizations. He reveals how current approaches to change often hold our organizations back from their full potential. As an alternative, Strobel professes servant-based leadership as the most effective approach to return organizational value and to lead others through change. He demonstrates how our largest management resource, middle managers, can transform into change agent leaders to assess organizational systems and develop solutions that provide a competitive advantage.
Sociologists estimate there to be eleven million middle managers in the United States. The author believes that it's easy to substantiate this number much higher. The latest census shows about fifty-one million workers aligned to management, professional and related occupations. Of these, slightly more than one million are in the role of chief executive. It follows the remaining fifty million are in a role with some decision-making capacity, but don't have ultimate authority. Research indicates as much as 90% of this group claims to be unprepared to deal with change. These professionals seek to accomplish their work while accounting for technology advances, globalization, and an increasing emphasis on lower costs and sustainability. And according to Strobel, they do so in an environment of constant change.
Acclaimed change agent and leadership expert Brian Strobel argues that organizations have been approaching change wrong for a very long time. They wait for change to happen, and then they react. Through this approach, Strobel claims, they struggle to apply tools and techniques to manage change and typically do so only after being overcome by events. Instead, Strobel professes, organizations need to seek to lead the change. In "Leading Change From Within" (Westbow Press: February 4, 2015), he puts forth a road map that demonstrates how middle managers can affect lasting change. More specifically, he provides a framework and a leadership toolbox for middle managers to learn to account for the congruence of emotions and systems within their workplaces and the surrounding interdependencies that exist within the culture. Strobel documents his method in a manner that helps managers connect with those they lead while providing a discrete road map through the constant change that is the reality of today's organizations.
Strobel has been helping organizations find value in change for the past twenty-five years. Within his book "Leading Change From Within," he provides practical tools that can help others in their transformation from middle manager to change agent leader. According to Strobel, victimhood, misuse of power and a prevalent lack of engagement are holding our organizations back from achieving their full potential. He believes middle managers have silently sat by for too long, not affecting their environment through intentional actions to make things different, to make them better. He believes his approach demonstrates an alternative. Strobel professes that leading change, and doing so effectively, will help define a company's competitive advantage.
"Leading Change From Within: A Road Map to Help Middle Managers Affect Lasting Change" provides solutions that are desperately needed in our organizations today. Strobel asserts that the book also serves as the launching point for his platform to give back to others on a larger scale. Intimately involved in social charity groups, a portion of all proceeds from "Leading Change From Within" are pledged back to the University of San Diego's scholarship endowment fund.
For more information on "Leading Change From Within" or Brian Strobel, visit http://leadingchangefromwithin.com.
About Brian Strobel:
Originally from Pittsburgh, Brian Strobel spent the first part of his career as a Marine Officer before joining corporate management. As an executive, middle manager or a consultant to middle management, he's been helping organizations find value in change for twenty-five years. He has graduate degrees in management and executive leadership and is a Certified Professional Coach (CPC) and Manager of Quality/Organizational Excellence (CMQ/OE). Strobel is committed to helping organizations uncover hidden value by developing middle managers into more effective leaders. He lives with his wife and his favorite dog by a quiet lake in the forest, just north of Grand Rapids.