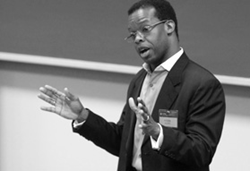 Winning with Customers is helping companies develop and improve winning customer value propositions that drive growth, innovation and profits - using an innovative, rigorous and practical approach.
New York, NY (PRWEB) March 03, 2015
D. Keith Pigues, Partner at Keen Strategy and author in the new C-Suite Book Club, is featured this week on C-Suite TV's Best Seller TV.
Featuring premium content from top thought leaders, designed to increase knowledge, deepen understanding, and build skills to enhance readers' personal and professional lives, D. Keith Pigues, the co-author of "Winning with Customers: A Playbook for B2B", is part of the C-Suite Book Club as a featured author. He sat down with host Camilla Webster, best-selling business author and on-air personality, in August 2014 to discuss his book.
In his extraordinary debut, Keith gives readers the opportunity to learn about creating customer value relative to competitors. The book has earned starred reviews from:
Lisa S. Thompson, Partner at Monitor Deloitte:
As an expert in commercial strategy, I have been helping clients with similar issues for 16 years. Keith and Jerry have managed to boil down into one book, the pure essence of what it takes to win. Many of these concepts have been in the marketplace for years. So now, with this insightful and practical how-to book, managers have no excuse for not doing what we know to be essential for winning. Bravo to Jerry and Keith.
Dick Sobel, Managing Director at The Pricing Analytic Group:
As a pricing consultant I was intrigued with the crisp and relevant answers to the question on how your products create more value for your customers vs. your competitors. The book provides a systematic process in determining the value, monetizing it and a complete program for profitably growing your business. It is the most focused business book that I have read to date.
Bill Hass, Managing Director at Board Resources:
Jerry Alderman and D. Keith Pigues have changed the rules of B2B competition with Winning With Customers! Use CVC to Dig Deeper and "Render" Fact-Based Customer insights into better decisions on capital and talent allocations. With Fact-Based customer insights, leaders will be confident to "Act Sooner" and are sure to build value in any business. CVC is a great process and system for obtaining continuous feedback and new value from any B2B sales force.
Hanno Lorenzl, Senior Manager Advisory Services at Ernst & Young:
With this book (and the companion website & software solution) Keith and Jerry have achieved quite a feat: They link a quantitative, logical and rigorous methodology with a simple and effective way to execute. "Winning with Customers" provides step-by-step instructions to answer the two key question to commercial success:
-Why do my customers buy from me?
-How do I get them to spend more with me?
If you want to finally go beyond the stock answers ("We have the best products"; "We have the lowest prices"; "We have the highest customer satisfaction") to understand customer value and put it to everyday use, then this book needs to be on your reading list.
Oscar Bellechasse, Business Analytics Senior Manager at Pepsico:
An uncomplicated read that really gets down to the business of improving your B2B relationships. This book in conjunction with the companion website [...] provides a practical way for companies to get started.
"Winning with Customers is helping companies develop and improve winning customer value propositions that drive growth, innovation and profits - using an innovative, rigorous and practical approach," said D. Keith Pigues. "The question at the heart of the book, Do your customers make more money doing business with you?, has caused C-suite executives to pause and ask themselves and their organizations some tough and revealing questions that lead to breakthroughs with their customers and their profits."
To view Keith's interview on Best Seller TV, go to http://c-suitetv.com/full-episodes/best-seller-tv/.
###
About C-Suite TV:
C-Suite TV is a web-based digital on-demand business channel featuring interviews and shows with business executives, thought leaders, authors and celebrities providing news and information for business leaders. C-Suite TV is your go-to resource to find out the inside track on trends and discussions taking place in businesses today. This online channel is home to such shows as C-Suite with Jeffrey Hayzlett, Executive Perspectives and Best Seller TV, and more. C-Suite TV is part of C-Suite Network, the world's most powerful network of C-Suite leaders.
About Keen Strategy:
Keen is a new breed of firm: a software-enabled strategic consultancy. We combine next generation decision analytics with a practical, outcome-based mindset to help managers make effective, proactive decisions about their business. Keen works with clients who believe in the power of the next leap forward. Our areas of expertise: brand strategy, customer strategy, marketing forecasting & optimization, and trade deal optimization.
CONTACT INFORMATION
Heather Burns
Marketing Project Manager, Keen Strategy
heather.burns(AT)keenstrategy.com
919.256.3638