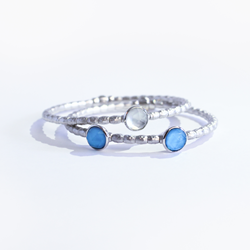 New York, NY (PRWEB) February 24, 2015
Gabriel & Co. and iconic fashion designer, Carmen Marc Valvo, are evolving their fine jewelry collaboration, the aptly named Carmen Marc Valvo by Gabriel & Co. collection. Both companies, in the midst of celebrating their respective 25th anniversaries, unveiled the new jewelry line at Carmen Marc Valvo's Fall 2015 runway at Mercedes Benz New York Fashion Week. As with their inaugural collaboration which will hit retail in Spring 2015, this new generation of Carmen Marc Valvo by Gabriel & Co. is a predominantly sterling silver collection featuring earrings, bracelets, necklaces and collar link studs made with Shadowplay diamonds, colored gemstones, and sprinkled with stainless steel. The two brands are proudly expanding their first ever men's collections pairing Shadowplay diamond encrusted shirt studs and cufflinks with Carmen Marc Valvos' bespoke men's ready-to-wear fashions.
Carmen Marc Valvo's Fall 2015 collection is a nod to1950's nostalgia with tartan plaids, pleated cocktail dresses and skirts, paperboy and aviator pants, all reminiscent of school girls and boys in a more glamorous and less complicated era. The Carmen Marc Valvo by Gabriel & Co. jewelry collection compliments the ready-to-wear line with stackable bangles handmade with sterling silver, stainless steel and diamonds, long layer necklaces and drop earrings made with black mother of pearl and white agate. The more luxurious pieces were paired with both women's and men's looks on the runway, and include sterling silver collar link studs and shirt studs bejeweled with Gabriel & Co.'s Shadowplay diamonds which boast subtle hues of pale yellow, white and grey tones.
"We are honored to partner with Carmen Marc Valvo as we continue to celebrate our joint 25th anniversaries," states Chief Creative Officer, Berna Gabriel, "A true visionary and artisan, Carmen's bespoke designs continue to inspire us, and it is our privilege and responsibility to make women look and feel beautiful."
"This jewelry collection is filled with great synergy," says Designer, Carmen Marc Valvo. "I'm especially excited about the new stainless steel pieces paired with precious gemstones, lockets and color adornments that exude elegance and nostalgic simplicity."
About Carmen Marc Valvo:
American designer Carmen Marc Valvo combines elegant and classic artistry in striking silhouettes designed to enhance and complement the inherent beauty of the female form. The designer's unique ability to highlight a woman's best features through the flawless execution of color and fabric has made him a favorite of fashion-conscience women seeking an unforgettable special event look. Over the years, Carmen's stunning cocktail dresses and breathtaking couture gowns have graced some of the world's most glamorous and talented women. After years of working in the Parisian ateliers of Nina Ricci and Christian Dior, Carmen Marc Valvo created his own eponymous line in 1989. With the September 2014 Mercedes Benz Fashion Week runway show in New York City, showcasing the Spring 2015 Collection, Carmen Marc Valvo will celebrate his 25th anniversary. The house of Carmen Marc Valvo is made up of several collections, including Couture, Black Collection, White Collection, Knitwear, Fur, Shoes, Swimwear, Eyewear and Sunglasses. For more information, please visit: http://www.carmenmarcvalvo.com
About Gabriel & Co.:
Gabriel & Co. is proud to celebrate 25 years in making hand crafted fine jewelry with timeless designs and unparalleled quality. Founded in 1989 in Manhattan by brothers Jack and Dominick Gabriel, the aptly named Gabriel & Co. has grown into a world-renowned brand amongst consumers and within the fine jewelry industry. Most recently, the brand was voted the most preferred and the most profitable brand by both JCK Magazine's Retailer Survey and INSTORE magazine's annual Big Survey. For more information, visit http://www.GabrielNY.com.
###