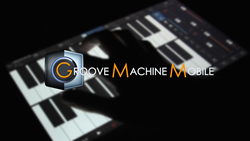 Get your groove on!
(PRWEB) February 25, 2015
Groove Machine Mobile (GMM) is available for Android, iOS and Windows (aka FL Studio Groove). GMM is a touch-based groove production & performance App featuring a 10 pad, sample-based drum machine, and 5 polyphonic synth / sampler channels. Loop, sequence, edit, mix and perform live on tablet devices.
PRICING AND AVAILABILITY
Groove Machine Mobile is $9.99 USD at the following locations
FREQUENTLY ASKED QUESTIONS

Does Groove Machine Mobile support MIDI?
Yes, under all operating systems - Android, iOS and WIndows.

What's the difference between 'Groove Machine Mobile' GMM and 'FL Studio Groove' FLSG?
GMM and FLSG are the same application under different names - Android/iOS (GMM) and Windows 8/10 (FLSG). Image-Line changed FLSG to GMM when we released it on Android and iOS, to prevent confusion with FL Studio Mobile, which is a completely separate App.

Does Groove Machine Mobile work on phones?
Groove Machine Mobile was designed with Tablets in mind. The controls will be too small on an phone. Image-Line recommend a screen size of 7 inches or more.

Is FL Studio Groove compatible with FL Studio?
There is no direct compatibility at this stage, although users can export groove audio to wav format and import that to FL Studio as with any wav file.

What is the difference between 'Groove Machine Mobile / FL Studio Groove' and 'FL Studio Mobile'?
Groove Machine Mobile is a 'groove box' style application with the focus on loop/sequence creation, loop triggering & live tweaking. FL Studio Mobile is a 'track-based' digital audio workstation (DAW) application, like FL Studio for PC, with a focus on music production & recording. FL Studio Mobile projects are compatible with FL Studio, while Groove Machine Mobile projects are not.
Established in 1994, Image Line Software provides high quality music applications to the computer-based music community and is well-known for its leading digital audio workstation FL Studio (formerly FruityLoops), FL Studio Mobile for Android and iOS; high-quality synthesizers including Autogun, DirectWave, Drumaxx, Groove Machine, Harmless, Harmor, Morphine, Ogun, Poizone, Sakura, Sawer, Slicex, Sytrus and Toxic Biohazard. Innovative effect plugins including Gross Beat, Hardcore, Maximus, PitCher & Vocodex; and finally, a wide range of sample libraries used in their multi-sampler plugins DirectWave and Soundfont Player. Image-Line also produces the acclaimed DJ mixing software application Deckadance. In addition to its audio software, Image Line Software develops and distributes the web site building application, EZGenerator.
For more information, please contact:
Scott Fisher, Communications Manager
Image Line Software
E-mail: press(at)image-line(dot)com