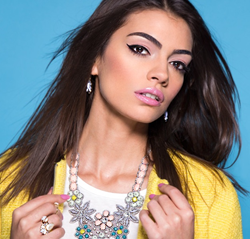 This month, the Fitness Edit welcomes Pink Lotus, Colosseum, and Knixwear.
Milwaukee, WI (PRWEB) February 24, 2015
Wantable, Inc., a leading discovery service for makeup, accessories, intimates, and fitness, announces March Collections. The March Makeup Collection welcomes back Frankie Rose, Au Naturale and Lise Watier. March's Intimates Collection features Happy Socks and KnowMe Shapewear. The Fitness Edit welcomes Pink Lotus, Colosseum, and Knixwear.
Adding pops of color to the March Makeup Collection is Au Naturale's versatile Lip & Cheek Tints and Frankie Rose's 5 Shade Shadow Pallettes. The March Collection will also feature eyeliners and lashes from Canadian cult-favorite Lise Watier. Finally, Billion Dollar Brows is back with brow powder.
The March Accessories Collection features stones that are perfect for layering. March's pieces vary from delicate and refined to angular and distressed so there's something for every style. With summer sunshine on the horizon, there's also an array of sunglasses in bold hues for that unexpected pop of color.
Swedish sock company Happy Socks has arrived for our March Intimates Collection. The March Collection is full of poppy spring hues like melon, lavender, spring mint, and vapor blue mixed with sultry shades of black and gray. The March Collection also welcomes KnowMe Shapewear and their comfortable shapers inspired by their belief that shapewear should make women feel good about their bodies.
Wantable's newest personal styling service is the Fitness Edit. Unlike the Makeup, Accessories, and Intimates Collections, the Fitness Edit sends customers five premium fitness apparel items to try on at home. This month, the Edit welcomes Pink Lotus, Colosseum, and Knixwear. The Fitness Edit is a monthly subscription, but can be skipped or canceled at any time. Edits are currently only available to customers in the 50 U.S. states.
Wantable, Inc.'s March Makeup, Accessory, and Intimates Collections are available online from February 24 to March 23. Please visit http://www.wantable.com for more information.
About Wantable, Inc.
Wantable offers a personal shopping service online, delivering handpicked assortments of specialty products to busy women on a reoccurring basis.
Each month, in-house and guest curators handpick beauty, fashion accessories, and intimate apparel from hundreds of quality boutique, specialty, and premium vendors to ensure that each collection is filled with the best on-trend items every month. Wantable offers Makeup, Accessories, and Intimates Collections, along with a Fitness Edit.
Wantable, Inc. boasts 24 full-time employees working in Milwaukee's Third Ward, including Jalem Getz, founder and president. Prior to Wantable, Inc., Mr. Getz founded BuySeasons, Inc. in 1999, and served as President and CEO until March 2010. BuySeasons is the largest online retailer and supplier of costumes and party supplies. Prior to starting BuySeasons, Getz co-founded specialty retail company, GMI in 1995. GMI quickly became one of Wisconsin's fastest growing companies and the largest seasonal retailer in Milwaukee.