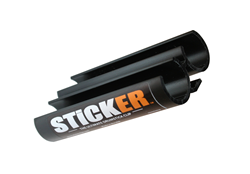 The ultimate solution for lost or separated drumsticks
Woodland Hills, Ca (PRWEB) March 06, 2015
Created by a drummer for drummers, the STICKER is a timely advance for drumstick holders. Whether resting on a drum set or together with other sticks in a drumstick bag, the use of the STICKER clip guarantees that pitched, weighted or artist series drumsticks will remain together, eliminating the possibility of separation or mix ups.
The durable, untethered design of the STICKER clip replaces the fragile and unreliable cardboard sleeve drumsticks are commonly packaged in, giving each musician the ability to keep their sticks secure while maintaining the manufacturer's originally matched pair.
"We at TAD believe that the benefits of the STICKER clip solve the ever-present problem of lost or separated drumsticks," says owner Les Butler. "Every drummer that has ever misplaced or mixed up their favorite sticks or has cursed the cardboard sleeve or broken rubber band that failed to hold them together will appreciate the simple convenience that the STICKER clip delivers."
The STICKER introduces many advantages over existing drumstick clips.
Key Features:
Unique Design: Portable, untethered design keeps the originally purchased drumstick pair secured together, eliminating the possibility of costly separation or mix ups.
Durability: Made from durable plastic the clip is reusable and outlasts the manufacturers cardboard packaging.
Convenience: The rear slide design enables two clips to be connected together, conveniently securing two stick pairs at one time.
Compact: When not in use the clip is small enough to fit in a pocket or stick bag.
Sizes: Accommodates 5A -2B drumsticks.
To purchase this product visit Guitar Center, MusiciansFriend, Music123.com and other online and retail stores.
For more information please contact:
Les Butler at Tad Products Inc. (818) 230-2055 / sales(at)stickerclips(dot)com
or visit us on the web at http://www.stickerclips.com