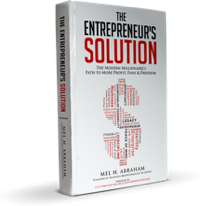 It's not about business for business sake rather it is about business for life's sake!
Monarch Beach, CA (PRWEB) March 02, 2015
Morgan James Publishing's new release, The Entrepreneur's Solution: The Modern Millionaire's Path to More Profit, Fans & Freedom by Mel H. Abraham, provides entrepreneurs with the tools and motivation to achieve maximum success.
Starting a new business and surviving in the modern economy is challenging for many entrepreneurs and business owners. But Abraham wants his readers to know that they don't have to worry about how to survive; in fact, they can even learn how to thrive. The Entrepreneur's Solution capitalizes on the unique skills entrepreneurs have and teaches how to use them effectively.
Having the right mindset is the key to entrepreneurial success. Using the Business Mastery Blueprint™, Abraham breaks the entrepreneur's mindset into three key elements: identity, impact, and influence. The Entrepreneur's Solution describes how, when put together, these three elements change the effectiveness of an entrepreneur completely. Without them, connecting to a community and capitalizing on profit becomes nearly impossible.
Abraham says, "Entrepreneurship and entrepreneurial thinking is how we can transcend the old world, industrial age model (that doesn't work!) and thrive in today's digital age – a time when society is hungry for deeper meaning, more connection and true value. We seek to blaze our own path; to write our own rules and to create our legacy each and every moment we live."
Further, Abraham is giving copies of his book away (http://www.theentrepreneurssolution.com) because his mission is to shine the light on the new path to financial freedom and peace of mind through entrepreneurship.
The Entrepreneur's Solution is for established business owners, people just starting their own company, and the recently unemployed. All readers can learn from Abraham's insight and experience. Abraham isn't just a man who has been wildly successful in his own life, but he has also coached many others to achieve that same success. Abraham shows readers exactly what it takes to live the life of their dreams.
The Entrepreneur's Solution teaches readers to take their passion for business and to channel it effectively for the best results. Whether it's learning to take more risks, to communicate more effectively, or to make decisions, The Entrepreneur's Solution offers takeaways for all readers.
To get your copy of The Entrepreneur's Solution go to [http://www.theentrepreneurssolution.com or if you would like more information about this topic, or to schedule an interview with Mel H. Abraham, please call Nickcole Watkins at 212.655.5470 Ext 204.