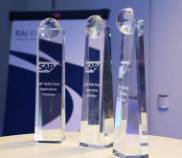 This is really a landmark accomplishment for Innovapptive, as it is imperative and critical to help our broad range of customers and partners to simplify their mobile application deployment initiatives.
Houston, TX (PRWEB) February 25, 2015
Innovapptive Inc., a leading provider of SAP Mobile solutions today announced that its entire portfolio of SAP certified mobile solutions are now available on SAP HANA Cloud Platform mobile services (HCPms). SAP HANA Cloud Platform mobile services is designed to drive mobile business innovation with simplicity by integrating people, devices and business networks in real time. By leveraging SAP's unique breadth of end-to-end capabilities spanning the development, staging and secure deployment of mobile applications Innovapptive will accelerate mobile deployment for a lot of SAP customers.
The new SAP HANA Cloud Platform powered solution is expected to simplify customer's processes to build, deploy and manage their complete mobile strategy on the cloud. Together with the SAP mobile platform SDK, the mobile services deliver enterprise-grade authentication, data encryption, advanced push notifications as well as offline and synchronization for SAP and non-SAP back-ends. SAP HANA cloud platform offers several value added features for mobile users offering a high level of collaboration, integration and analytic capabilities.
"This is really a landmark accomplishment for Innovapptive, as it is imperative and critical to help our broad range of customers and partners to simplify their mobile business and easily create a multi-channel and context aware mobile applications on the cloud. This platform-as-a-service (PaaS) offering further accelerates Innovapptive's instant mobilization initiatives, apart from drastically reducing implementation timelines by over 50%", said Sundeep V. Ravande, President and Co-founder at Innovapptive Inc.
Further deliberating on the benefits accrued by this business proposition, Sundeep added, "Innovapptive's entire portfolio will be available on the SAP HANA Cloud Platform and can run both on the SAP Fiori Launchpad and also through Innovapptive's already popular suite of native mobile solution, thereby giving customers the best of both worlds. With this step, Innovapptive is able to address a diverse set of user needs and align well with customer's long term SAP Fiori strategy."
New features in SAP HANA Cloud Platform such as optimized data synchronization for native and hybrid apps and expanded push notifications API enables delivery of apps that engage users. The new administrative user interface is consistent with the same look and feel as the SAP Fiori user experience, ensuring that administrative tasks are accomplished in a simple and an efficient manner.
SAP HANA Cloud Platform mobile services is also fully interoperable with the cloud-based SAP mobile secure offering to provide device, content and app level management and security options. In addition to that, one-click deployment from mobile services to mobile place offers an easy and quick discovery, download and provisioning of apps on both managed and unmanaged devices, similar to commercial app stores.
About Innovapptive
Innovapptive is a SAP mobile application development and services partner, a provider of a cloud based mobile application management platform, 30+ SAP-certified mobile apps, and a 2014 SAP Pinnacle Award finalist. Innovapptive offers an array of SAP mobile products and services that accelerates customer's time to market and adds value to their SAP mobile deployments. Some of the Innovapptive's products such as the mPower™ App store, which is a cloud based mobile application management solution and the mPower™ App Suite, which is prepackaged with a SAP certified add on, allows customers to achieve infinite number of customizations through simple SAP configurations. The mPower™ App Suite and the mPower™ App Store provides customers a comprehensive portfolio of end-to-end mobile solutions to instantly take their enterprise mobility to the next level. The team at Innovapptive brings a unique and unparalleled combination of SAP, mobile and industry experience and have transformed large global 2000 customers such as MARS Chocolate, Wrigley's, AMGEN, ATOS International, Forest City Enterprises, KAUST, Semperian, EBY-Brown, Lord Corporation and Vallourec USA Corp to name a few.
SAP and all SAP logos are trademarks or registered trademarks of SAP AG in Germany and in several other countries. All other product and service names mentioned are the trademarks of their respective companies.