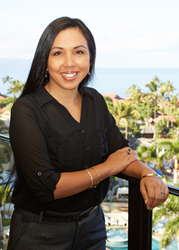 It makes total sense to bring this extra-level of sophisticated service to our Complete Suite Experience. We are committed to constantly innovating the guest experience at our Resort," adds Mark Simon, Four Seasons Resort Maui's marketing director.
Wailea, Maui HI (PRWEB) February 24, 2015
Four Seasons Resort Maui at Wailea has announced the appointment of Shermaine Rodrigues to the senior position of Guest Experience Manager (GEM), a new role at the Resort created to focus solely on handling the myriad needs of top-level suite guests.
This position is part of the luxury Resort's Complete Suite initiative, an inclusive experience that is offered to guests who choose to stay in a residential or ocean-front suite, the largest and most spectacular of Maui accommodations. Guests enjoy an array of intriguing extras including double round-trip transportation, private in-suite dinner, daily breakfasts and many more amenities.
"The Complete Suite Experience is like a 'hotel within a hotel' and the GEM position is pivotal because it allows us to connect with guests, to learn their preferences, to anticipate their needs, and to arrange personalized experiences," says Mark Simon, Four Seasons Resort Maui's marketing director.
Rodrigues, a native of Hawaii, has a 12-year stellar track record as part of the Resort's award-winning concierge team. A member of the prestigious Clefs d'Or organization, Rodrigues believes her prior experience is invaluable. "I am able to quickly respond to guests' questions about the island, quote available services and provide insightful and time-tested recommendations based on our vendor relationships.
Spend a day with Rodrigues and it becomes easy to understand why Maui's only Forbes Five-Star Resort selected her. With 16 top-level suites to oversee—including the two expansive presidential/residential suites, the Maile and the Lokelani—Rodrigues' work is cut out for her.
There is no typical day or evening. As the Resort's GEM, she needs to orchestrate her time and juggle requests. She constantly prioritizes requests and focuses in on the most immediate needs while keeping her eye on what lies ahead, typically connecting with up to 25 guests and families each day.
Rodrigues explains how the service works: Instead of guests stopping by the front desk, the concierge or other hotel departments for assistance and advice, she makes initial contact with guests, most often in an email introduction weeks prior to their arrival. "Guests love that I seek them out," she says and adds: "Once I receive a response I offer a phone call to better orient them about the resort and island, especially if it is their first visit.
This pre-stay interaction saves guests time once on property and allows them to relax while Rodrigues and her colleagues look after their well being. And Rodrigues is not bound to a desk. She can be found meeting with guests—her i-Pad and cell phone in hand—as they enjoy the luxurious pools, restaurants, spa and beach.
Rodrigues' goal is to offer guests one-of-a-kind Complete Suite Experiences. As an example, the young son of a top suite guest was fascinated with Jackson's Chameleons which flourish in Maui. The family wanted to visit Hana, but Maui's chameleon population resides elsewhere on the island. What to do to surprise the boy? Rodrigues had an idea. She found two perfect chameleons at a local pet shop and engaged the Resort's limousine company—TLC—to drive the reptiles to Hana, where they were placed in a tree. The limousine driver did double duty to watch over the chameleons to ensure the reptiles didn't escape. While the adventure was taking shape, Rodrigues made special arrangements to fly the family via private helicopter to Hana where the boy found his cherished chameleons and had the adventure of a lifetime. He and his chameleons became good friends and, in fact, returned to the Resort, staying in the Maile Suite. "You might say that the Jackson's Chameleons learned to live the high life," chuckles Rodrigues.
Simon believes the GEM concept represents a new paradigm shift in the hospitality industry. "It makes total sense to bring this extra-level of sophisticated service to our Complete Suite Experience. Several other Four Seasons properties have introduced this concept as well. We are committed to constantly innovating the guest experience at our Resort,'' adds Simon. He adds the GEM service to a long list of Resort innovations.
About Four Seasons Resort Maui: call 1-800-334-MAUI (6284) or e-mail reservations.mau(at)fourseasons(dot)com
Maui's first and only Forbes Five-Star resort is nestled on 15 acres of the breathtaking Wailea Coast. The 380-room oceanfront property is world-renowned for its comfortable opulence, impeccable service, luxurious amenities, and for living in harmony with its environment and community. The resort in Maui is also home to one of the nation's top-rated spas committed to wellness and three of Hawaii's most acclaimed restaurants — Ferraro's Bar e Ristorante, Spago Maui and DUO, a premium steak and seafood restaurant. This sophisticated home away from home caters to the needs and interests of all generations offering world-class activities and one-of-a-kind Unforgettable Events, a museum quality art collection, three pools overlooking the azure-blue Pacific Ocean including an adults-only Serenity Pool with exclusive Missoni-designed cabanas, and more. Four Seasons Resort Maui is a Hawaiian vacation destination geared to action adventurers, those guests wishing to practice the fine art of doing nothing at all, and everyone in between.
Media Contact: Charlotte Novom | Novom Marketing, Inc. | 714.941.9799