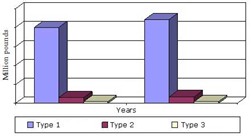 The U.S. packaging barrier resin market is expected to grow to about 9.8 billion pounds in 2019
Wellesley, Mass. (PRWEB) February 24, 2015
BCC Research (http://www.bccresearch.com) reveals in its new report on U.S. packaging barrier resin market that the total U.S. market was valued at 8.8 billion pounds in 2014 and should grow to about 9.8 billion pounds over the next five years.
The largest segment is food and beverage packaging, which accounts for 95% of the U.S. market for the resins covered because of the large usage of polyethylene terephthalate (PET). Other smaller but important markets include chemical/industrial products packaging (including automotive gasoline tanks) and healthcare products packaging, such as pharmaceutical blister packaging.
Packaging has been around for centuries and was developed for a number of reasons. These include preservation and stability of products over time and the protection of products from damage, dirt, moisture, etc. Trends in the barrier plastic packaging market include the continuing tendency toward more complicated and sophisticated multilayer barrier structures, using more but often thinner layers.
"One ongoing development that has been slow in gaining success is the multifaceted effort to increase the barrier properties of PET to make it a suitable material for packaging beer," says BCC Research analyst Dr. J. Charles Forman. Several new methods have been developed and tested, with more success to date in Europe. This market could present a significant new opportunity for PET in barrier packaging if it can catch on in the U. S.
Plastics for Barrier Packaging provides in-depth coverage of many of the most important technological, economical, political and environmental considerations in the U.S. barrier packaging polymer industry. Market forecast has been provided for the period of 2014 to 2019.
Editors and reporters who wish to speak with the analyst should contact Steven Cumming at steven(dot)cumming(at)bccresearch(dot)com.
About BCC Research
BCC Research publishes market research reports that make organizations worldwide more profitable with intelligence that drives smart business decisions. These reports cover today's major industrial and technology sectors, including emerging markets. For more than 40 years we've helped customers identify new market opportunities with accurate and reliable data and insight, including market sizing, forecasting, industry overviews, and identification of significant trends and key market participants. We partner with analysts who are experts in specific areas of industry and technology, providing unbiased measurements and assessments of global markets. Recently selected as the world's greatest market research company, BCC Research is a unit of Eli Global, LLC. Visit our website at http://www.bccresearch.com. Contact us: (+1) 781-489-7301 (U.S. Eastern Time), or email information(at)bccresearch(dot)com.