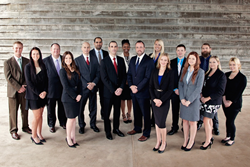 Holidays like St. Patrick's Day mean that more people are engaging in behavior that can land them in jail for an alcohol-related offense.
Houston, Texas (PRWEB) February 26, 2015
St. Patrick's Day is a notoriously dangerous time of year for alcohol-related accidents, and approximately 80 percent of drunk driving deaths on St. Patrick's Day involve drivers with blood-alcohol levels almost twice the legal limit, according to Houston DWI lawyers Corso & Rhude.
As St. Patrick's Day festivities begin, Texas police are preparing to keep roads safe with no-refusal DWI checkpoints across the state.
Last year no-refusal programs, which streamline the warrant process for police to test the blood of suspected drunk drivers, took place on St. Patrick's Day and the weekend leading up to the holiday.
Suspected drunk drivers who refused a breathalyzer test were not taken to a hospital for blood alcohol content testing as usual, but instead were taken to jail where a nurse was ready to draw blood onsite.
No-refusal DWI weekends mean officials are serious about keeping communities safe from drunk drivers. In fact, the chance of being caught driving drunk, arrested and convicted increases when these checkpoints are taking place, which is why it's important to plan ahead on St. Patrick's Day.
The only way to prevent DWI related accidents is to never drive while under the influence of drugs or alcohol.
"Holidays like St. Patrick's Day mean that more people are engaging in behavior that can land them in jail for an alcohol-related offense," said Christopher Corso, a Corso & Rhude founding partner.
Rhude cautions anyone suspected of driving while intoxicated to understand their rights including the right to remain silent; only providing insurance, registration and identification; and refusing to submit to all field sobriety tests. According to Corso, a blood and alcohol test is the only test a person suspected of drunk driving should take.
In Texas, a DWI means jail time, even for first time offenders. Other repercussions include heavy fines, suspension of driving privileges, probation and in some cases may require DWI offenders to wear alcohol-detection devices such as a SCRAM bracelet.
"DWI is a serious offense and something that no person should take lightly," Corso said. "When you're armed with the facts, it makes it even more vital that you have a designated driver if you plan on drinking on St. Patrick's Day."
Every DWI defense case in Texas is different, and the outcome is dependent upon the specific facts and circumstances surrounding the charges, which makes having an experienced defense attorney even more important.
Corso & Rhude attorneys do everything in their power to protect defendants' families and advocate for their rights. They have the experience and expertise to deal with DWI charges in Texas and will fight to get them dismissed while counseling the accused's family.
To schedule a free consultation, please visit http://www.corsorhude.com or call (713) 231-0499. The Law Office of Corso & Rhude, PLLC is located at 5177 Richmond Ave. Suite 1250 Houston, Texas 77056.