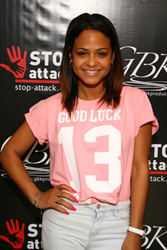 Los Angeles, CA (PRWEB) February 24, 2015
GBK (gbkproductions.com) - the celebrity gift lounge and special events company, hosted their signature gifting lounge on February 20th and 21st at L'Ermitage Beverly Hills. The scene was set to style and pamper Hollywood's elite, featuring everything from hand-crafted jewelry and posh pet products, to indulgent artisan chocolates and exotic destinations. Music, provided by GoodBoy, filled the air and put the finishing touch on this celebratory event.
Presenting Sponsor, STOP-ATTACK.com, partnered with GBK to bring some awareness to this luxury lounge. STOP-ATTACK.com is an assault-response application (app) and service for IOS and Android mobile devices. Designed to be easy to use, quick to activate and reliable, the app is an invaluable personal protection resource. Tap ... record, get help, take control.
Celebrities got to sample from a range of health, wellness, beauty and fashion that filled the lounge including: Dr. Jamie Sands – Cosmetic Dentist, gifting a comprehensive dental exam and an in-office professional teeth whitening; Beauty Kitchen by Heather Marianna, who provided skin polish, hand cut soap bars and natural spa products; DermaSet 3D Anti-Aging Renewal Treatment, an all-in-one anti-aging cream; exclusively developed new basicare beauty kits from basicare; a full range of hair products from Jonathan Hair Care; 3 personal training sessions with Celebrity Trainer Lalo Fuentes; and L.A. Star Greens – Perfect 10, the world's first certified organic blend of the top 10 superfoods.
Guests satisfied their sweet tooth with gifts from MY M&M'S®, providing attendees with silver favor tins filled with award-themed personalized M&M'S® and creating a tabletop display where guests created their own blends; and an eight piece assortment gift box from John Kelly Chocolates. Pet lovers indulged in fun and furry products from WonderWoof – gifting a dog activity tracker that promotes your pup's healthy and social lifestyle; and a collection of pet products and services from Support Ur Pet.
On the fashion front, guests were styled with products from Blaze Clothiers – USA; Shatra Designs, providing Bohemian-inspired luxury jewelry; handmade bracelets made out of donated military uniforms to support many military non-profit organizations from Bands for Arms; men's jeans Haala Denim; and gorgeous bracelets handcrafted in Connecticut featuring gemstones with meaning and a corresponding hashtag that matches the intention & style of the stones from Hazel and Harmony.
Other sponsors included Energy Upgrade California, Energy Upgrade California® is a state initiative to help Californians take action to save energy and conserve natural resources, help reduce demand on the electricity grid, and make informed energy management choices at home and at work; Alila Hotels and Resorts, providing gift certificates for guests to stay at Alila properties in India, Oman, Bali and more; Still With You, a company that creates heart-warming memorial statues to comfort the bereaved in their darkest hours; Fancy Pants Wines, gifting their refreshing Pinot Grigio and rich, juicy Red Blend; and services from Jim Hjort, LCSW a Psychotherapist and Right Life™ Coach.
Charity participants included: Each Mind Matters: California's Mental Health Movement, a movement made up of millions of individuals and hundreds of organizations working to advance mental health. Each Mind Matters will also be gifting items from their shop, and their sponsor hope & grace initiative, contributing a jar of "renewed hope in a jar" all-day skin-renewing moisturizer from their product line. The hope & grace initiative represents an unprecedented and unending commitment by philosophy to support mental health and well-being.
ABOUT GBK
GBK, formerly GBK Productions, is a luxury lifestyle gifting and special events company, specializing in entertainment marketing integration. Formed in 2000 by Gavin Keilly, the company's Founder and CEO, GBK consists of five divisions: GBK Celebrity Gifting, GBK Special Events, GBK Weddings, GBK Charitable Consulting and GBK Marketing/Public Relations. Widely known in the entertainment industry for bringing that little extra something into the Gifting Lounge environment, GBK offers its clients a full range of marketing services. For more information on Gavin B. Keilly (CEO), Carla Domen (VP) or GBK, please go to gbkproductions.com.
###