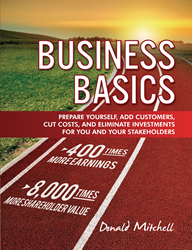 I am confident that readers will want to employ what they learn because each step is filled with compelling common sense that is all too often ignored in business.
(PRWEB) February 26, 2015
Business Basics combines theory, advanced practices, and directions for applied work. The book's 52 lessons are based on extensive investigations into creating business breakthroughs using existing resources. The book provides would-be entrepreneurs planning to build their first businesses, experienced entrepreneurs preparing to create another business, and leaders of established businesses with wisdom and directions for obtaining 8,000 times more cash flow.
The book's lessons are presented into four how-to parts: preparing for leading, adding customers, cutting costs, and eliminating unnecessary investments.
Business Basics is designed to be studied and applied over at least one year. Each lesson contains assignments. Some can be finished in a few hours and others can take several months to accomplish. Each of these lessons has already been tested by the members of The Billionaire Entrepreneurs' Master Mind—an international group of entrepreneurs founded in 2006. Donald Mitchell serves as this study group's research coordinator and has created more than 300 lessons for the members. The 52 lessons included in Business Basics are the most valuable ones for addressing the four breakthrough tasks.
The author, Donald Mitchell, serves as the chairman and chief executive officer of Mitchell and Company, a management consulting firm established in 1977 specializing in business strategy and financial consulting. His clients can often be found among America's 200 largest corporations.
Mr. Mitchell is the author of Adventures of an Optimist (2007), Excellent Solutions (2014), and Excellent Leadership (2015). He has also co-authored many books including The 2000 Percent Solution: Free Your Organization from "Stalled" Thinking to Achieve Exponential Success (1999) and The 2,000 Percent Solution Workbook (2005). He is the founder of The 400 Year Project, a global initiative to create improvements 20 times faster for everyone on the Earth (see fastforward400.com).