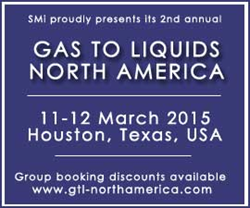 Houston, Texas (PRWEB UK) 24 February 2015
The Panel Debate on Day 1, The Future of GTL in North America, hosted by Velocys, SGC Energia, US Department of Energy and Jan Lerou Consulting, will discuss and debate with attendees how the drop in crude oil might affect the future of GTL, including current projects and those in R&D.
The Interactive half-day pre-conference workshop hosted by Dr. Ronald A. Sills, Founding Director, XTL & DME Institute will now be covering not only GTL but also the shale revolution and the impact of the recent collapse of crude oil prices.
Catriona Smith, Event Producer, SMi Group, commented: "Every year we introduce new speakers to update our attendees on the latest developments and international projects. This year, with the fall in global oil and natural gas prices in recent months, we fully appreciate these are hard times for oil and gas companies. Therefore, to help our attendees gain a better understanding of the impact of oil and gas prices on the market, we have enhanced our event programme with new additions listed above."
Organisations attending Gas to Liquids North America 2015 include ZeoGas, Shell, ExxonMobil Research and Engineering, Abengoa, Ceramatec, West Virginia University, Argonne National Laboratory, American Stategic Innovations, Sumitomo Corporation of Americas, Zeolyst International, IntraMicron, Frames Group, AGC Si-Tech Co., Pembina, Dynamic Industries Inc, Roddey Engineering Services, SABIC, Clariant Corporation, Triten IAG and many more.
Event speakers 2015 include leading experts representing RBN Energy, ExxonMobil Research and Engineering, Oberon Fuels, EmberClear, U.S. Energy Information Administration, BNP Paribas, Polytechnique Montreal, Louisiana Economic Development, Southern Research Institute and many others.
Gas to Liquids North America 2015 is proud to be sponsored by Axens, Ariel, BP and Velocys.
Sponsorship Enquiries: contact Alia Malick on +44 (0) 207 827 6168 or [email protected]
Delegate Enquiries: contact Ronald Gilgeours on +44 (0) 207 827 6734 or [email protected]
Media Enquiries: contact Julia Rotar on +44 (0) 207 827 6088 or [email protected]
For more information or to register please visit http://www.smi-online.co.uk/2015gtlamericas31.asp
2nd annual Gas to Liquids North America
11-12 March 2015
Marriott West Loop Hotel, Houston, Texas, USA
http://www.smi-online.co.uk/2015gtlamericas49.asp