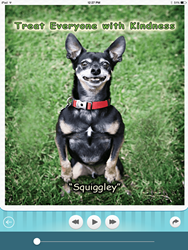 Parents need help, too. Happy Kids-Happy Pets brings important issues to the fore in a non-threatening way so parents can cover them with their children.
Atlanta, Georgia (PRWEB) March 05, 2015
Many parents believe pets are good for their kids.
What about apps?
What about apps that use pets?
Now that's a breakthrough idea.
Betty Delman, the creative spark behind Happy Kids-Happy Pets, says her grandkids inspired the new app. "A few years ago, I started writing stories to kids from the perspective of cats and dogs. Each story taught a valuable life lesson and because it was narrative from a cute pet and not instructions from a grown-up, the child didn't feel "lectured to." I read the stories to my grandkids and they loved them. But after watching them read books and play games on their iPads, I knew that this is the best way to deliver these stories to kids."
Delman says the Happy Kids-Happy Pets app is designed to be fun — plus help elementary and middle school age kids and their parents have important conversations about dealing with others. Izzy, Rocco, Squiggley, and the team don't shy away from tough issues, either. Everything from bullying to shyness to teasing to cliques are tackled. "Most parents know that their kids will be challenged with these things," Delman says. "One key for parents is to prepare their kids so they know ahead of time the principles for dealing with these issues.
"Most kids won't raise these topics with their parents. Parents need help, too. Happy Kids-Happy Pets brings important issues to the fore in a non-threatening way so parents can cover them with their children."
The Happy Kids-Happy Pets app delivers short stories, written to children from the perspective of a cat or dog. Each story is designed to instill self-confidence and teach proper treatment of their friends and family pets.
To use the app, kids flip through a carousel of 275 digital cards. The front of each card has a fun — and often funny — picture of a cat or dog. Once they find the pet they want to hear from, the child taps the card to reveal a short story from the pet. The child can read the story themselves, or tap a play button to hear the story narrated to them, complete with fun sound effects. Many stories end with a question for the parent and child to discuss.
Betty Delman says, "We're excited to release this app. We used a simple design so that kids can use it without help, but the best results happen when parents, grandparents and teachers use the app to engage in meaningful conversations with their kids. It can often be a challenge for parents to initiate these conversations. But kids love to hear from Izzy the Italian Mastiff on why it's important to keep a promise. Or Rocco the German Shepard on how to overcome fears. The kids learn important life-lessons in a fun environment."
The free app comes with 15 cards and is available on tablets, including iPad, Kindle and Android. More cards can be purchased within the app. Fifty percent of all profits are distributed to charities that promote the humane treatment of animals. Learn more about the app by visiting http://www.happykids-happypets.com.
About Happy Kids Happy Pets
Happy Kids-Happy Pets™ exists to promote character development in elementary-age children and teach them self-confidence and respect for their friends and animals. Our approach is to deliver life-lessons through stories from cats and dogs. Delivering these lessons from the perspective of pets helps children relate to the topic without feeling "lectured to." The company's motto is, "Treat ALL people and ALL animals exactly how you want to be treated. Kindness is Cool!"