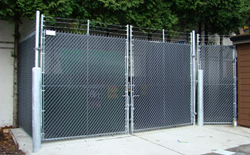 Decorative fencing is known to be more inviting.
Vancouver, BC (PRWEB) February 26, 2015
QS Fencing Company, Vancouver has recently announced that it will now be offering unique commercial fencing solutions that not only enhances security of the property, but also adds to its aesthetic appeal. Many commercial security solutions that are effective in what they do often tend to have ugly features like large metal doors or grotesque security equipments. However, QS Fencing has paid special attention to the esthetics of their commercial fencing solutions, making them look welcoming and beautiful, without compromising on their effectiveness.
Commercial properties, such as offices or shops, need security from burglars and trespassers. This need is further enhanced after business hours.
"If your business is a facility, such as a factory, construction site, or criminal detention center, more robust and sturdy designs are recommended to provide stronger defenses," states a company representative. "On the other hand, a dental office or small café is more inclined to welcome outsiders into the boundaries of the property. Decorative fencing is known to be more inviting. There is also a good middle point for properties such as foreign consulates, high schools, and membership clubs that want to keep trespassers out, but don't want to scare their own clients away. There are such hybrid fences, which can do the job just right."
About QS Fencing
Established in 2010, QS Fencing is a young family-owned business that aims to provide quality products and superior service. It is a Vancouver Fencing Company that is licensed and insured. All their employees are WCB insured as well. QS Fencing serves the geographical areas of Vancouver, West Vancouver, North Vancouver, Burnaby, New Westminster, Coquitlam, Port Coquitlam, Port Moody, Maple Ridge, Richmond, Surrey, and Delta, BC.
To place an order at QS Fencing, visit http://www.qsfencing.ca or call (604) 345-5145.