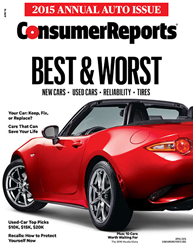 Detroit vehicles are breaking through in new categories as Consumer Reports Top Picks. Many have come a long way in performance, technology, improved reliability.
Yonkers, NY (PRWEB) February 24, 2015
In its annual Top Picks list, Consumer Reports has crowned four new vehicles—the Buick Regal, Chevrolet Impala, Subaru Legacy, and Toyota Highlander—with the top honor in each of their respective categories. Domestic automakers picked up two new spots.
For the first time since 1998, three domestic brands were included in Consumer Reports' Top Picks lineup, signaling a resurgence in better-quality vehicles from manufacturers here. The Buick Regal nabbed the best Sports Sedan title, after outpointing the BMW 328i, which held the honor for the last two years. Surprisingly agile, the Regal defies Buick's brand stereotype.
The Chevrolet Impala was named best Large Car, noted for comfort and its luxury-car ride. Tesla's Model S is Consumer Reports' Top Pick for Best Overall vehicle for the second year in a row for its performance and technological innovations.
"Detroit vehicles are breaking through in new categories as Consumer Reports Top Picks. Many have come a long way in performance, technology, improved reliability," said Mark Rechtin, Consumer Reports' Cars Content Development Team Leader.
Subaru's Forester, Impreza, and Legacy models are Consumer Reports' Top Picks for Small SUV, Compact Car, and Midsized Sedan respectively. The Legacy beat out last year's winner, the Honda Accord (4-cylinder). For the second consecutive year, the Forester was named the best Small SUV in the hottest vehicle segment, compact crossovers, as it has nailed the recipe of combining practicality, safety, fuel economy, value, and interior accommodations.
Consumer Reports' 2015 Top Picks list, Car Brand Report Cards and more from the Annual Auto Issue were released at a press conference today before the Washington Automotive Press Association (WAPA) in Washington, D.C. For more details and videos of the Top Picks, visit Consumer Reports' 2015 Autos Spotlight.
Historically, Japanese brands have done well on Consumer Reports' Top Picks list, taking more than 70 percent of the spots since 1997. But their hold continues to slip; this year, Japanese brands took six spots—the fewest in the 19-year history of CR's Top Picks. Models from seven brands are represented on this year's list of 10 Top Picks. Only Toyota and Subaru earned more than one spot each on the list.
For its Top Pick for Green Car, Consumers Reports has once again awarded the honor to the Toyota Prius. The Prius has been a Top Pick 14 times since 2002; the only other vehicle since 2001 to be named a Top Pick in the Green Car category was the Honda Civic Hybrid, which took the honor in 2003. The Prius continues to offer the best fuel economy, at 44 mpg overall, of any five-passenger, non-plug-in vehicle.
Consumer Reports' Top Picks are the best all-around models in their categories; they are chosen from 270 vehicles the organization has recently tested. Top Pick models must meet CR's stringent criteria in three areas: performance, reliability, and safety. They must rank at or near the top of their category on overall road test scores; they must have earned an average or better predicted-reliability Rating, based on problems Consumer Reports' subscribers reported on 1.1 million vehicles in the latest survey; and they must perform adequately if included in crash or rollover tests by the government or the insurance industry.
Consumer Reports' 2015 Top Picks By Category:
BEST OVERALL: Tesla Model S ($89,650) For all of the impressive new vehicles released in 2014, none was able to eclipse the innovation of the Tesla, making it the best overall pick for the second year in a row. It's a technological tour de force, a high-performance electric vehicle with usable real-world range, wrapped in a luxury package.
MIDSIZED SEDAN: Subaru Legacy ($24,837) Years ago, people bought Subarus to be practical and pragmatic. Now, it's simply a great car with mainstream appeal and impact. The Legacy provides a quiet, comfortable, and roomy package that also has the best ride among its peers. Its 26 mpg might seem lackluster, but that's with the reassurance of all-wheel drive.
COMPACT CAR: Subaru Impreza (sedan, $21,345) The Impreza's interior packaging is outstanding and recent improvements have made it quieter inside. And, Subaru has finally embraced the need for a contemporary infotainment system. It drinks more fuel than its peers, with an overall 27 mpg, but offers the benefit of all-wheel drive.
GREEN CAR: Toyota Prius ($29,230) The purity of the Prius' functional excellence dictate that—although almost at the end of its model cycle—it remains the best green car pick for the 12th year in a row. Nothing can touch the sweet spot of its affordability, stellar fuel economy, smart-packaging, and blue-chip reliability.
LUXURY CAR: Audi A6 ($56,295) The A6 pampers drivers with extravagant surroundings, a functional, elegant interior, and a plush ride while remaining faithful to its core value of crisp handling on a curvy road. Fuel economy is commendable at 22 mpg when combined with the security of all-wheel drive.
SPORTS SEDAN: Buick Regal ($34,485) Surprisingly agile, the Regal defies Buick's brand stereotype and the value-for-the money equation is strong. Because it's an Opel underneath, it has that Teutonic ride control that provides a Europhile driving experience. The 259-hp, 2.0 liter turbo is sharply integrated with a six-speed automatic and available all-wheel drive.
SMALL SUV: Subaru Forester ($26,814) With the Forester, Subaru has nailed the recipe of combining practicality, safety, fuel economy, and interior accommodations. It offers outstanding value and visibility is terrific. A vehicle Consumer Reports recommends for families with better crash-test results than most of the field.
MIDSIZED SUV: Toyota Highlander ($38,941) The redesigned Highlander has all the versatility and functionality of a minivan, but wrapped in a more macho package – a swagger wagon for the sensible crowd.
MINIVAN: Honda Odyssey ($38,055) The redesigned Odyssey, a living room on wheels with flexible seating for up to eight, rides and handles better than some family sedans and is enjoyable to drive, taking corners with confidence. An all-wheel-drive version is missing from the lineup, and reliability could be better, but, it's still one of the best values on the market.
LARGE CAR: Chevrolet Impala ($39,110) Large and roomy, the Impala has comfortable seats and rides like a true luxury car. The suspension is supple yet responsive, without the body roll that plagues many big cars. The controls are big, intuitive, and easily understood. However, only the V6 version meets Consumer Reports reliability standards.
Complete details on Consumer Reports' Top Picks for 2015, car brand report cards, best and worst lists and other key findings are available in the Annual Auto Issue of Consumer Reports on newsstands March 5thth or visit Consumer Reports' 2015 Autos Spotlight page on ConsumerReports.org.
For live coverage of CR's breaking news, connect on Twitter at @ConsumerReports and on Facebook at http://www.facebook.com/ConsumerReports.
Consumer Reports' testing procedures are the most comprehensive of any U.S. publication or Web site. More than 50 individual tests are performed on every vehicle, including evaluations of braking, handling, comfort, convenience, safety, and fuel economy. Roughly 6,000 miles of general driving and evaluations are racked up on each test car during the testing process. CR buys all its test cars anonymously from dealers. Other reviewers base their evaluations on press cars that are hand-picked by the automakers.
Connect with us for live coverage of the Autos Spotlight, on Facebook.com/ConsumerReports, and on Twitter: @ConsumerReports and @CRCars #CRcarFest. Full coverage of the 2015 Autos Spotlight is at http://www.ConsumerReports.org/AutosSpotlight.
About Consumer Reports
Consumer Reports is the world's largest and most trusted nonprofit, consumer organization working to improve the lives of consumers by driving marketplace change. Founded in 1936, Consumer Reports has achieved substantial gains for consumers on health reform, food and product safety, financial reform, and other issues. The organization has advanced important policies to cut hospital-acquired infections, prohibit predatory lending practices and combat dangerous toxins in food. Consumer Reports tests and rates thousands of products and services in its 50-plus labs, state-of-the-art auto test center and consumer research center. Consumers Union, a division of Consumer Reports, works for pro-consumer laws and regulations in Washington, D.C., the states, and in the marketplace. With more than eight million subscribers to its flagship magazine, website and other publications, Consumer Reports accepts no advertising, payment or other support from the companies whose products it evaluates.