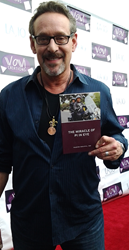 I am a passionate surgeon who can understand the passion of artists
Beverly Hills, CA (PRWEB) February 24, 2015
Khanna Vision Institute participated in the gifting lounge in the penthouse of Hotel Luxe in Beverly Hills. Wow Creations has been organizing this even to honor the nominees for Academy Awards. This year the event drew the largest crowds ever. People flew in from as far as Japan to participate. Beverly Hills Lasik surgeon Rajesh Khanna, MD was asked to endorse various products. He was happy to see the emphasis was on health and better nutrition. "For a busy artist, whether a surgeon or a movie actor, personal time is scarce. It is important we have tools to rejuvenate our body and mind which fit around our schedules"
Rob Stienberg from "12 Years a Slave" was happy to get the book "The miracle of Pi in Eye" written by Dr.Khanna. He had been considering various vision correction procedures. He was eager to read the book. J Michael Trautmann, Andy and Elizabeth Webster were all happy to be at the Pre Oscars 2015 event. Prince Amukamara of the NFL was also an invited guest. Designer Sue Wong looked gorgeous in her stone necklace.
Various journalists covered the Oscars 2015 gifting lounge. Samira and Adriana Michelle of AMB magazine were spotted.
Khanna Vision Institute is a premier vision facility in Beverly Hills. It caters to people from all over the world. Its medical director - Rajesh Khanna, MD is a pioneer in the field of Presbyopic Implants, which allow people to see at all distances without the need of either contact lenses or glasses. He is also a critically acclaimed author of the book- " The Miracle of Pi in Eye". Dr. Khanna also hosts "Medical Magic".