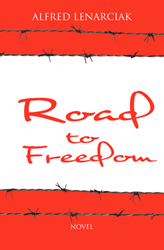 I wrote this book for my son's generation, who have grown up in the free world and have difficulty understanding the significance of freedom
MIAMI (PRWEB) February 25, 2015
In 1961 a 10-year-old boy, living in Poland, found himself glued to an underground radio as he hung on every word from John F. Kennedy's inauguration. For author Alfred Lenarciak, this marked the moment he promised himself he would escape communism.
In his new novel, "Road to Freedom," Lenarciak details his 14 years of struggling and preparing to flee his communist home to the free world. Reflecting on his journey from Poland to Czechoslovakia, passing through the Iron Curtain and risking his life avoiding snipers by swimming the Danube River, Lenarciak displays the courage and determination needed to preserve the freedoms we enjoy today.
Lenarciak draws inspiration from Abraham Lincoln's words, "every man is born equal and free."
"Only 25 years ago half of the world lived under Communist regime without freedom," said Lenarciak. "I wrote this book for my son's generation, who have grown up in the free world and have difficulty understanding the significance of freedom."
"The Road to Freedom" will take readers to a time and place where life was without freedom. As audiences read the true story of a man who would stop at nothing to achieve free will, they will experience the drive it takes to claim liberty.
For more information, visit http://www.alfredlenarciak.com
"Road to Freedom"
By: Alfred Lenarciak
ISBN: 978-1-49695-555-5
Available in softcover, hardcover, e-book
Available on Amazon, Barnes & Noble and Author House
About the author
Born in Poland, Alfred Lenarciak immigrated to Montreal, Canada in 1975. Retiring at the age of 60, Lenarciak dedicates his time to publishing stories based off his life experiences, which he has written over the last several years. Lenarciak spends time investing, developing, writing and philanthropy. He currently resides in Nassau, Bahamas with his wife, Barbara.
# # #