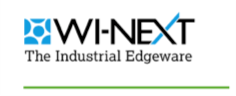 We were honored to be featured both as a tech innovator, and emerging solution leader in the IoT
Milan, Italy (PRWEB) February 25, 2015
Wi-NEXT, the emerging leader in industrial edge networking and edge computing devices known as Industrial Edgeware, is proud to announce that they have been featured in ABI Research's recent report on Hot Tech Innovators as one of the 113 most innovative companies. With a recent win of the 2014 M2M Evolution IoT Excellence Award, Wi-NEXT's appearance in this list of leading tech innovators further establishes them as a company to watch in the Internet of Things (IoT) space.
Wi-NEXT provides innovative, industrial-grade, wireless networking technology that easily connects industrial machines accelerating time-to-value for IoT applications. Wi-NEXT designed their Industrial Edgeware to connect both new and retrofitted legacy equipment, enabling new value-added services both in the cloud and at the edge, such as preventative maintenance, real-time performance monitoring and security. ABI Research complimented Wi-NEXT on their ability to move processing closer to the edge for faster, more predictable reaction times.
"We were honored to be featured both as a tech innovator, and emerging solution leader in the IoT." said Nicola De Carne Founder and CEO of Wi-NEXT.
Interested in finding out what the most innovative companies operating in today's global market all have in common? Click here to read ABI's latest report on Hot Tech Innovators https://www.abiresearch.com/whitepapers/Hot-Tech-Innovators/ .
About Wi-NEXT
Wi-NEXT® is a provider of industrial edgeware solutions, designed to build Internet of Things and Fog Computing for industrial applications. Since their founding in 2007, they have dedicated themselves to building innovative, enterprise-grade solutions that help customers get their products connected.
Wi-NEXT sells their patented networking and Edgeware distributed FOG-computing solutions globally through value-added solution partners. For more information, please visit our website at http://www.wi-next.com or follow us on Twitter @winextcom
# # #
Press Contacts
Sandra Mueller,
Marketing Dept.
Wi-NEXT
Sandra(dot)mueller(at)wi-next(dot)com