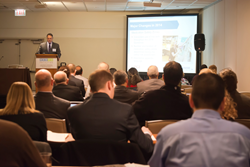 "key programs address building code and facility guideline updates".
Centerville, MA (PRWEB) February 26, 2015
Code Requirements for Existing Buildings
Code compliance is especially challenging in existing buildings, due to the various thresholds that can be tripped and the complicated set of choices that can have unexpected consequences. This seminar will review the structure of the 2009 International Existing Building Code (IEBC) and applicable Massachusetts amendments, as well as relevant requirements of Massachusetts General Law and the Architectural Access Board regulations.
Speakers
Don Vigneau AIA Code Consultant AKF Group, LLC
Vernon Woodworth FAIA Consultant AKF Group, LLC
The New Massachusetts State Energy Code: 2012 International Energy Conservation Code
Per the Massachusetts Green Community Act the Commonwealth is required to adopt the latest model energy code within 12 months of its publication. Since July 1 2014 we have been required to comply with the 2012 IECC. Learn about the requirements of this code for both commercial and residential construction, as well as the status and potential future of the Massachusetts "Stretch" Code.
Speakers
Don Vigneau AIA Code Consultant AKF Group, LLC
Vernon Woodworth FAIA Consultant AKF Group, LLC
Zero Net Energy Buildings in Massachusetts
Bringing public leadership to high-performance design, the new Massachusetts Division of Fisheries and Wildlife Field Headquarters is one of three projects selected to become the first public sector zero net energy buildings in the Commonwealth, as envisioned by the Governor's Zero Net Energy Task Force.
Speaker Dan Arons AIA, LEED AP Principal Architerra
FGI Guidelines Update for 2015 - Meeting the Client's Needs
In the era of health care reform, state and federal payers, clinicians, patients, and professionals supporting the health care physical environment are challenging many traditional design concepts. Influenced by this climate, the 2014 edition of the Guidelines for Design and Construction of Hospitals and Outpatient Facilities offers increased efficiencies and clarifies requirements. This session will provide a review of major changes that support today's clinical practices and patient safety concerns. Topics covered will include updates to operating room suite, sterile processing, endoscopy, dialysis, and imaging requirements as well as new requirements for risk assessments and medication safety zones.
Speaker Kurt Rockstroh FAIA President/CEO Steffian Bradley Architects, Inc
Affordable, quality workshops delivered by industry experts. Download complete conference program. Questions, call 800-996-3863 or email us at info(at)mededboston(dot)com
Over 80 medical and educational facilities planners, building science experts and many more share their day-to-day experiences in this fast-paced profession. Here's a complete list of speakers to-date http://mededboston.com/conference/speakers/
Sponsored by the Boston Chapter of the Construction Specifications Institute, the New England Real Estate Journal, and High Profile Monthly, this event is for the entire New England building industry.
ABOUT US
MED-Ed Facilities is produced in collaboration with Tradeshow Management Services Ltd., a full-service tradeshow company specializing in conferences and tradeshows for the design, building and construction marketplace. TMS has been affiliated with leading events including AEC SYSTEMS, ArchitectureBoston Expo (ABX), Build Boston, Residential Design & Construction, Ecobuild America, Federal Construction Outlook Conference, BIM Expo, and Construction Technology.
CONTACT:
http://www.mededBoston.com
1-800-996-3863
fax: +1 (508) 790-4750
info(at)mededBoston(dot)com