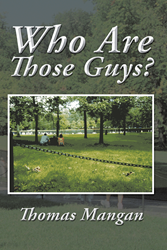 Finding the name of someone you are looking for totally changes the experience of the Wall.
ROCHESTER, N.Y. (PRWEB) February 24, 2015
When retired Air Force Cpt. Thomas Mangan learned that his children were going on a school trip to Washington, D.C., he knew that he couldn't send them to the Wall unprepared.
A veteran of the Vietnam War, Mangan knows of the deeply moving and almost numinous experience that a visit to the Wall at the Vietnam Veterans Memorial can bring. He has written a book called "Who Are Those Guys?" that is designed to deepen and broaden the experience of the wall for newcomers.
"If someone walks by all those names with no particular one in mind, they all just all mix together in a sea of greying letters," Mangan said. "People can pass by understanding the significance of the memorial, but it is still somewhat of a removed experience."
Wanting his children to be able to appreciate the importance of the memorial, Mangan began to put together a compendium of information about the men he knew whose names were on the Wall. His compendium expanded with additional research and was eventually used by the entire class, who thought it was exciting that Mangan's children had names to find.
"Finding the name of someone you are looking for totally changes the experience of the Wall," said Mangan. "You realize that that person isn't just a drop of water in the ocean of names, but someone who had a life and hopes and people that loved them."
Whether one is visiting the Wall or virtually taking a tour from the comfort of his or her armchair, "Who Are Those Guys?" is a resource for anyone who is interested in learning about the highest costs of the Vietnam War.
"Who Are Those Guys?"
By Thomas Mangan
ISBN: 978-1-4969-3552-6
Available in softcover, hardcover, e-book
Available on Amazon, Barnes & Noble and AuthorHouse
About the author
Thomas Mangan is a retired Air Force Captain who flew in the Vietnam War. Personally knowing some of the men he writes about in his book, he is passionate about veteran's issues. He has more than forty years experience writing about everything under the sun—high tech equipment, movie reviews, obituaries, politics, research papers, software and speeches. He also writes an online column for examiner.com. He lives in Brockport, New York.
**FOR IMMEDIATE RELEASE**
For review copies or interview requests, contact:
Matt VanScoik
317.602.7137 | mvanscoik(at)bohlsengroup(dot)com