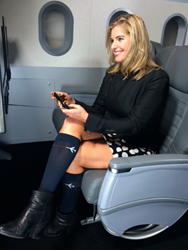 "Soxxy's goal is to provide simple, everyday solutions that will improve your leg health inflight and on the ground. DVT is a deadly disease that impacts millions of Americans every year. We're aiming to reduce that number," said CEO, Sarah Stabile
New York, NY (PRWEB) February 25, 2015
Soxxy, the leading performance-fashion sock brand is celebrating Deep Vein Thrombosis (DVT) awareness month with a special campaign designed to improve leg health inflight and on the ground. Air Canada and American Airlines will be among the first airlines to sell Soxxy compression sox onboard and broadcast the DVT awareness video on their inflight entertainment systems.
Deep Vein Thrombosis is a blood clot that develops in a deep vein, usually in the leg. If not treated properly, it can lead to serious complications, such as: pain, fainting, heart failure, stroke or even death. A clot in the lung is called Pulmonary Embolism (PE). According to Airhealth.org, "about 3 - 5% of air travelers suffer blood clots." The US Department of Transportation reported approximately 745 million airline passengers carried in 2014.
"Our goal is to provide simple, everyday solutions that will improve passengers' leg health against DVT and other venous related diseases," stated Soxxy CEO, Sarah Stabile. "Four percent of 745 million passengers = 29.8 million passengers who develop blood clots or DVT. If we can reduce that number by just one percent in the next two years, that would be a huge achievement."
Soxxy partnered with leading Vascular Surgeon, Dr. Marsel Huribal to create four easy CHIL tips for ultimate leg health. C = compression sox, wear Soxxys; H = hydration, drink lots of water; I = isometric exercises; L = leg elevation, stand up and walk every 2 hours. This simple acronym can be practiced at home, work and at 30,000 feet. The CHIL jingle was written by Rick Kelly and the dance choreographed by Justine Mentor. [http://youtu.be/uBJo_udmRfM __title__ CHIL video link]
Throughout March, Soxxy compression sox are discounted 10% and free leg exams will be offered at the Vascular Experts Clinics in Southern CT (by appointment). http://www.soxxyair.com