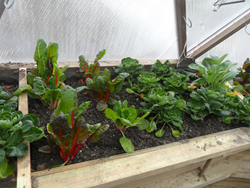 It's amazing really, that one small business can provide so much organic produce and so many eggs to help us provide healthy food to the poor and homeless.
Paterson, New Jersey (PRWEB) February 25, 2015
Last fall a team of volunteers from local businesses and the community helped build a 26 ft. solar Growing Dome® geodesic greenhouse from Growing Spaces, Pagosa Springs, CO. Through a combination of corporate and foundation grants and individual donations over $15,000 was raised to purchase and install the growing dome. The project was overseen by a Growing Spaces certified supervisor, provided free of charge through a grant from Growing Spaces. The greenhouse is an extension of Wayne Auto Spa's Victory Garden growing beds, which provide fresh organic produce to Eva's Village during the traditional growing season. "With the addition of the Growing Dom e® Eva's Village can improve the quality of the food we provide for our clients especially the mothers and children living in Hope Residence year round," stated Dale Calvert, president of Eva's Village board of directors.
The Growing Dome® consists of UV resistant, shatter-proof polycarbonate panels over structural framing. Features that make this a year round greenhouse are automatic opening vents, a solar powered cooling fan, a solar powered under soil heating and cooling system and reflective insulation. Once the dome was constructed, Rob Burke, the owner of Wayne Auto Spa, began planting seedlings and the first harvest was delivered to Eva's Village in mid-January. Even with the temperatures dipping below zero this week, the temperature in the dome has not gone below forty degrees. Darryl Dela Cruz, Executive Chef at Eva's Village says; "It's amazing really, that one small business can provide so much organic produce and so many eggs to help us provide healthy food to the poor and homeless."
To donate to this NJ Charity, or for more information about Eva's Village, call (973)-523-6220, go to http://www.evasvillage.org or write to: Donna Fico, Senior Director of Program and Resource Development, Eva's Village, 393 Main Street, Paterson, NJ, 07501.
About Eva's Village:
Eva's Village (http://www.evasvillage.org), originally a New Jersey soup kitchen, was founded in 1982 by Msgr. Vincent E. Puma in response to the increasing incidence of homelessness in his Paterson, NJ parish. But Msgr. Puma soon realized that a soup kitchen was not enough. With the generous support of thousands of donors and private and government grants, Eva's has grown to be the most respected anti-poverty organization in New Jersey. Their mission is to feed the hungry, shelter the homeless, treat the addicted and provide medical and dental care to the poor with respect for the human dignity of each individual. Eva's Village maintains a consistent "Four Star" (most preferred) rating by Charity Navigator, the "Online Guide to Intelligent Giving." Hundreds of generous volunteers serve at Eva's Village in a number of ways, including serving in our community kitchen and medical and dental clinics, donating food and other supplies, providing in-kind services, and conducting a wide variety of vital fund raising programs.
About Wayne Auto Spa:
Owner Robert Burke has established Wayne Auto Spa as a community friendly and environmentally friendly car wash with well-established green credentials. By treating and recycling water, utilizing solar and wind turbine power and using only biodegradable soaps, Wayne Auto Spa's green practices prevent pollution, conserve resources and create clean energy. The facility is heated with used motor oil and replaced a number of paved areas with grass and plants to minimize storm water run-off. Wayne Auto Spa's on-site organic "Victory Garden and Learning Center" is visited by schools and community organizations and produces organic produce, eggs and honey for free distribution to nonprofits, including Eva's Village in Paterson, NJ. By using a comprehensive "Green is Good for Small Business" philosophy, Wayne Auto Spa has set a precedent for the car wash/quick lube industry in New Jersey.