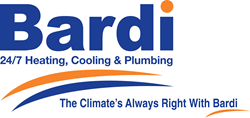 ...we're encouraging homeowners to take advantage of this offer to save money and avoid the hassle of trying to fit a larger water heater into a small space
Atlanta, GA (PRWEB) February 25, 2015
Atlanta plumbing company Bardi Heating, Cooling & Plumbing is encouraging homeowners to purchase its water heaters prior to new Department of Energy (DOE) efficiency standard changes come April 15, 2015. As part of the National Appliance and Energy Conservation Act (NAECA) put in place by the DOE, all household appliances will be required to meet higher energy efficiency standards. All water heaters will now have to be manufactured differently to meet these new standards, which will affect distribution, installation and cost. Where traditional water heaters were narrow enough to fit into a closet, requiring only three square feet of floor space, the mandated new models will be larger and require more surrounding air space. This may pose a challenge for residential customers, resulting in construction and installation costs. In addition to the larger size, the new efficiency models will be more expensive; currently, minimum-efficiency water heaters cost $600 to $1,500 versus the new-efficiency models that will cost $1,200 to $2,450.
To help soften the impact of the federally-mandated efficiency standard changes, Bardi Heating, Cooling and Plumbing has a large number of the current regulatory water heaters in stock for customers to purchase. In order to best address their customers' needs, Bardi will be working diligently to disperse its current water heater inventory now through April 15th, encouraging customers to act quickly and take advantage of this unique opportunity.
"We have enough of the current regulatory water heaters in stock to serve all of our customers," says Adam Bardi, residential service manager at Bardi Heating, Cooling & Plumbing. "Most family homes weren't designed to accommodate the new larger units, so we're encouraging homeowners to take advantage of this offer to save money and avoid the hassle of trying to fit a larger water heater into a small space."
About Bardi Heating, Cooling and Plumbing:
Bardi Heating, Cooling and Plumbing is a family-owned HVAC and plumbing company in Atlanta. Founded in 1989 by Alex and Susan Bardi, the company has been providing the Atlanta area with quality HVAC services for over 25 years. Bardi also offers plumbing repairs and services, and is home to an experienced management team as well as an outstanding team of NATE certified technicians, whose number one priority is to keep their customers satisfied by "always, always, always doing the right thing." Bardi provides free electronics pick-up and recycling on all service calls benefiting Nobis Works. For more information about energy efficient HVAC products, visit http://bardi.com or call 770-263-5355.