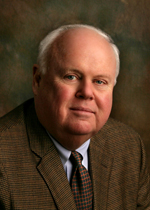 The Big Fun Event Scores!
(PRWEB) February 25, 2015
The Indianapolis Children's Choir (ICC) is proud to announce James T. Morris as the honorary chair of the Big Fun Event, its annual fundraising gala.
This year, "The Big Fun Event Scores!" will be held Saturday, April 18 at the One America Tower in downtown Indianapolis. The gala is intended to raise money for the ICC, and will include a hosted reception, silent and live auctions, dinner, dancing, and singing by the ICC. Tickets are available at icchoir.org.
Mr. Morris is vice chairman of Pacers Sports and Entertainment, and holds degrees from Indiana University and Butler University. He was former Mayor Richard G. Lugar's chief of staff from 1967-73, before joining the Lilly Endowment, serving as its president from 1984-88 and from 1989-2002. He was also the chairman and CEO for IWC Resources Corporation and Indianapolis Water Company. Before going to the Pacers, Mr. Morris was the executive director for the United Nations World Food Programme. He is also a community leader and volunteers his time and talents with many area nonprofit organizations. The ICC is honored to have such a venerated member of the Indianapolis community involved in its annual fundraising gala.
Currently in its 29th season, the Indianapolis Children's Choir has grown to become one of the largest children's choirs in the world. Founded by Artistic Director Henry Leck, the ICC serves over 3,000 central Indiana children from pre-school age through high school. The Indianapolis Children's Choir nurtures and inspires student achievement through quality music education and the pursuit of artistic excellence in choral music performance. To enroll a child, attend a concert, or make a financial donation, visit icchoir.org or call 317.940.9640.
###