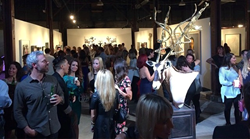 "...not only did they [Ticketbud] take care of all our ticket sales for POP, but they also built out a platform for us to use when we sold art work." -Amanda Huras, Co-Founder of POP Austin
Austin, TX (PRWEB) February 25, 2015
Ticketbud today announced that its custom design and consultation contract for POP Austin International Art Show resulted in unprecedented sales and profits. Founded in 2014 to bridge the disconnect between local artists and collectors, POP Austin's unique needs required outside help. In order to process ticketing and sales, the art show contacted global event management and registration software company Ticketbud to build out a custom solution.
"Ticketbud was wonderful to work with," remarked Amanda Huras, co-founder of POP Austin. "...not only did they take care of all our ticket sales for POP, but they also built out a platform for us to use when we sold art work...and at the end, they summarized the results and provided us the reporting we needed for an event this complicated." Ben Schwartz, one of the on-site support members, said "Ticketbud worked directly with POP Austin to find a customized solution for not just their ticketing needs but also their merchandise and art sales. We provided full support to help POP facilitate their art and merchandise sales by keeping lines short to keep attendees satisfied"
POP Austin employed much of Ticketbud's software suite in handling ticketing and attendee management. Additionally, they worked with Ticketbud's consulting team to customize the platform with several design and service packages for the specific needs of its art show.
Custom Build: POP Austin utilized Ticketbud's experience in event management and the ability to customize the platform to create software extensions that fit their requirements. These extensions integrated the tools necessary to support the auctioning of the prestigious artwork hosted at the event.
Event Support: One of the most helpful additional services that POP Austin benefited from was Ticketbud's event support team. This service granted the art show's patrons access to multiple Ticketbud employees to ensure that the check in process for guests went smoothly. The event support team was vital for the success of the art auction.
Advanced Reporting: Ticketbud also provided POP Austin with rich back-end reporting on all of its ticket and art purchases. With this knowledge, POP Austin was able to analyze day-to-day ticket sales, look at attendee information, and received information to further optimize its event for upcoming years. The Ticketbud reporting system also allowed POP Austin to optimize the marketing for its event, thus increasing its ticket sales.
About Ticketbud
Ticketbud helps event organizers manage their ticketing, promotion, and attendee management needs so that they can focus on actually running their events. With its intuitive event registration software, ticketing services, custom design work, and event consulting, Ticketbud is essential for ensuring an event's success. Event organizers worldwide use Ticketbud in order to manage events efficiently and more cost-effectively. If you would like to set up your event or receive more information visit ticketbud.com.
Tags: event management software, ticketing, event registration software, free online ticketing system, online event registration, event registration website, event consulting, squarespace widget
Ticketbud and Ticketbud LLC are registered trademarks of Ideabud LLC, in the United States and other countries. All other trademarks and copyrights are the property of their respective owners.