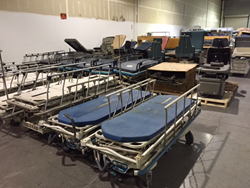 (PRWEB) February 25, 2015
Centurion Service Group, the world's largest medical equipment auction house, is proud to announce the upcoming live auction to sell over 2,000 pieces of medical equipment from hospitals, surgery centers and other medical facilities from around the United States. Various types of equipment will be sold including radiology, surgery, endoscopy, lab, anesthesia, infusion, exam and much more.
The auction will take place Thursday, February 26 starting at 9:00am PST. The equipment will be sold at their Las Vegas warehouse located at 4606 Andrews St. Suite 3, North Las Vegas, NV 89081. Anyone can participate in the auction, including those off site. Centurion Service Group will be offering online simulcast bidding and theater style bidding. Registration information and the complete list of medical equipment can be found at http://www.centurionservice.com.
A few highlights of the sale are: a 2007 Ziehm Vision R c-arm with workstation, a Ziehm Quantum c-arm system, two Getinge 433HC vacuum steam sterilizers, a Stryker Hummer 2 ENT Micro Debrider, a Datex-Ohmeda Aestiva 5 MRI anesthesia machine, Skytron Millenium Gold ML24 triple mount OR lights, two Stryker Vertier OR tables, a Ethicon Endo-Surgery, Inc. Mammotome control module, Karl Storz demo equipment, a Leica CM 1850UV microtome/cryotome and ten Bird VIP Gold ventilators.
For more information on this auction or upcoming auctions please visit centurionservice.com
About Centurion Service Group, LLC
Centurion Service Group is the world's largest medical equipment auction house. Every month over 7,000 lots of unique and diverse medical equipment are sold in their Chicago, Las Vegas and Fort Lauderdale auctions making them a one-stop shop for all medical equipment buyers. With a continuous turnover of medical equipment coming from hospitals, surgery centers, and other healthcare facilities from around the United States their inventory is constantly changing. All auctions are simulcast online so that buyers from around the world can participate, and for a more personal experience buyers can inspect the equipment and participate in the auctions on-site. Centurion Service Group also has timed auctions where they sell installed radiology and other high-valued medical equipment.