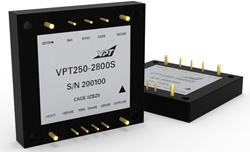 BLACKSBURG, VA (PRWEB) February 24, 2015
VPT, Inc. (VPT®), a HEICO company (NYSE:HEI.A) (NYSE:HEI), introduced the availability of the VPT250-2800S Series of single output 250 watt isolated DC-DC converters to its high-reliability COTS VPT Series product line. The VPT250 is uniquely designed for the increasing power conversion needs in military vehicles, ships, weapons, and other rugged systems requiring high reliability solutions. Featuring VPT's proprietary six-sided encapsulated package with an integral metalized EMI shield, the VPT250 Series is fully compatible with aqueous cleaning processes and is specifically intended for programs with harsh environments such as severe shock, vibration and thermal stresses.
The VPT250 features a wide input voltage range (16 to 40 Volts per MIL-STD-704 and MIL-STD-1275) and delivers 250 watts at efficiencies up to 92% from -55ºC to 100ºC. Utilizing VPT's proven design heritage, synchronous rectification topology and thermally conductive epoxy encapsulated packaging, the VPT250 Series provides high efficiency fixed-frequency operation, low input and output ripple, and superior thermal dissipation. Additionally, the VPT250 provides parallel current-sharing capability up to 1,250 watts.
"The VPT250 provides design engineers with 25 percent more power in the same package envelope while improving electrical performance in key areas. Our new epoxy encapsulated packaging provides the VPT250 with an integral EMI shield, protection from cleaning or application solvents and chemicals as well as the option of thermal conduction from either the top or bottom surface," said Monty Pyle, Vice President, Sales and Marketing for VPT, Inc. "Our customers said they need more power in the same space, impervious packaging and greater mounting flexibility without compromising electrical performance. The VPT250 checks all those boxes and more."
About VPT and HEICO
VPT, Inc., part of the HEICO Electronic Technologies Group, leads the industry in providing innovative DC-DC power converters, EMI filters, and custom engineering services for avionics, military, and space applications. VPT delivers its power solutions in a fast timeframe, with certified quality, at a comfortable cost. Every day, organizations like NASA, Lockheed Martin, Boeing, the United States Air Force, and many more depend on quality solutions from VPT to power critical systems. On the ground, in the air, or beyond, VPT provides the power conversion solutions driving critical missions that require high reliability. For more information about VPT, please visit http://www.vptpower.com.
HEICO Corporation (NYSE:HEI.A) (NYSE:HEI) is engaged primarily in niche segments of the aviation, defense, space and electronics industries through its Hollywood, FL based HEICO Aerospace Holdings Corp. subsidiary and its Miami, FL-based HEICO Electronic Technologies Corp. subsidiary. For more information about HEICO, please visit http://www.heico.com.
Products described in this communication are subject to all export license restrictions and regulations which may include but are not limited to ITAR (International Traffic in Arms Regulations) and the Export Administration and Foreign Assets Control Regulations. Further restrictions may apply. VPT, its logo and tagline are registered trademarks in the U.S. Patent and Trademark Office. All other names, product names and trade names may be trademarks or registered trademarks of their respective holders.