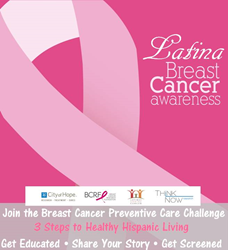 Irvine, CA (PRWEB) February 25, 2015
Latinas are consistently concerned about diabetes, heart disease and high blood pressure, research shows. Unfortunately, they pay far less attention to preventative care for breast cancer, another serious health threat to Hispanic women.
To help raise awareness about mammograms, the latest cancer research, diet and lifestyle, the Healthy Hispanic Living Website continues in March with new content during the second month of its 90-day Latina Breast Cancer Awareness effort. The outreach is co-sponsored by City of Hope, Breast Cancer Research Foundation, Latinas Contra Cancer and ThinkNow Research, to educate women and their families – and urge screening and preventative measures.
"Many of us have heard of the Hispanic Health Paradox – the fact that U.S. Hispanics live longer with better healthcare outcomes than non-Hispanic whites, despite higher income and education levels for the latter group," said Roy Eduardo Kokoyachuk, a partner at ThinkNow Research, which studies the U.S. Hispanic demographic.
"Unfortunately, that paradox does not hold up for cancer. There is no protective benefit in being Hispanic when it comes to cancer," he said. "Only through early detection and treatment will we gain the upper hand on this disease." Hispanic women have the highest mortality rate from breast cancer than any other cancer.
The A Passionate Pursuit of Prevention campaign is the first of several 90-day efforts by the Healthy Hispanic Living website to highlight health issues effecting Latinos. It focuses on three prongs, including education, sharing stories, and prevention and screening. Visitors can read new articles and watch videos that can help them get beyond the false stereotypes about breast cancer, and understand, for example, how heredity may influence their chances of developing the disease. They can learn the role that diet and exercise play, and about the latest cancer breakthroughs and treatment insights. They can read the stories of Latinas who have lived with the disease, and more.
The new and continually updated content is especially timely, given that research shows a wide disparity in what Latinas understand – and don't understand about the threat of breast cancer.
For example, only about one-third of millennial Latinas know that 1 in 8 women will be diagnosed with breast cancer in their lifetimes. Similarly, only one third of young Latinas are concerned about breast cancer, compared with 51 of non-Hispanic white peers," said Kokoyachuk, whose ThinkNow Research firm pulled findings from its database of 35,000 Hispanic and Latino women. The data also often show a significant gap in understanding between more acculturated Latinas than their less assimilated counterparts, he says.
By banding together through this campaign, Latinas can influence their families and create opportunities to advance the fight against breast cancer.
To learn more, visit Healthy Hispanic Living. To join the outreach campaign as a partner, please contact Annette Prieto at Annette(at)healthyhispanicliving(dot)com or 949-387-2609.
About Healthy Hispanic Living
As the first preventive care online educational platform targeted to U.S. Hispanics, HHL aims to guide Hispanics to live healthier lives and to ensure preventive care engagement, accountability and self-advocacy by providing solutions and changing the conversation about health from illness to wellness. For more information, visit http://www.healthyhispanicliving.com
About City of Hope
City of Hope is a leading research and treatment center for cancer, diabetes and other life-threatening diseases. Designated as a comprehensive cancer center, the highest recognition bestowed by the National Cancer Institute, City of Hope is also a founding member of the National Comprehensive Cancer Network, with research and treatment protocols that advance care throughout the nation. For more information, visit http://www.cityofhope.org
About Breast Cancer Research Foundation
Breast Cancer Research Foundation is a nonprofit organization committed to achieving prevention and a cure for breast cancer. BCRF provides critical funding for cancer research worldwide to fuel advances in tumor biology, genetics, prevention, treatment, metastasis and survivorship. For more information, visit http://www.bcrfcure.org/
About Latinas Contra Cancer
Founded to address the void in culturally and linguistically sensitive programs that meet the health care needs of Latinos around issues of cancer, LCC works to link services nationwide and provides cancer health education, patient navigation and psychosocial family support group services targeting the underserved and low income, Spanish-speaking. For more information, visit http://www.latinascontracancer.org
About ThinkNow Research
ThinkNow Research is a full-service market research firm that focuses on U.S. Hispanic, Latin American and Multicultural research. The company has one of the largest online research panels available in the industry, conducts a monthly Hispanic Omnibus survey and works with their clients to create customized online Hispanic communities. For more information, visit http://www.thinknowresearch.com/