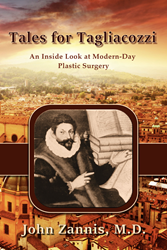 New Bern, NC (PRWEB) February 25, 2015
Board-certified plastic surgeon Dr. John Zannis is furthering his message of sensible plastic surgery with his new book, "Tales for Tagliacozzi, An Inside Look at Modern-Day Plastic Surgery," due to be released this spring.
Tagliacozzi references Gasparo Tagliacozzi, an Italian surgeon and pioneer of plastic and reconstructive surgery during the late 16th Century. He is known as "the father of plastic surgery." Zannis uses Tagliacozzi's example to discuss the best practices, methods and perspectives of today for sensible plastic surgery.
"The shape of the face and facial features all work together," says Dr. Zannis, a recognized leader in cosmetic plastic surgery, certified by the American Board of Plastic Surgery and head of the Zannis Center for Plastic Surgery. "The nose that accentuates the appearance of a celebrity or model, for example, could be all wrong for you, depending on the rest of your features. An important question for sensible plastic surgery is, 'Does it fit?' or, 'Does it work for a patient's overall appearance?'"
Dr. Zannis' practice offers the same range of cosmetic and reconstructive surgery that is described in his book. He has a particular interest in aesthetic rhinoplasty and facial rejuvenation.
He also is an expert in breast surgery and other body procedures. Non-surgical procedures for facial and body rejuvenation and comprehensive skin care are the focus of his adjoining medi-spa, The Rinnova Spa & Wellness Center.
"Plastic surgery is a multi-billion dollar industry in the United States, and some of the doctors performing these procedures are not certified," says Zannis, who studied art and art history in Florence, Italy. "Their patients are at risk not only of botched surgeries, but of undergoing unnecessary procedures for the wrong reasons."
He hopes that his new book will, in part, help guide readers to make the right decisions.
About Dr. John Zannis
Dr. John Zannis is board certified by the American Board of Plastic Surgery. He studied human biology and studio art at Stanford University and earned his medical degree from the University of Cincinnati College of Medicine. Zannis received his formal training in general surgery and plastic and reconstructive surgery at Wake Forest University under the guidance of world-renowned plastic surgeon Dr. Louis Argenta. During this time, he performed more than 5,000 surgical procedures and covered all aspects of plastic surgery. He has given numerous national academic presentations and keeps abreast of the latest technologies in plastic surgery at symposia across the country. He is head of the Zannis Center for Plastic Surgery (http://www.zannisplasticsurgery.com) in New Bern, N.C. His studies in art and art history in Florence, Italy, cultivated a passion for the Renaissance and geniuses of that time, such as Leonardo da Vinci, which continues to inspire and inform his practice of surgery.