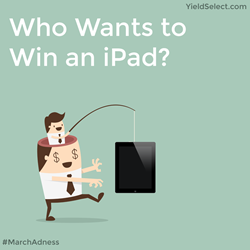 For every $50 a site earns, you'll warrant yourself another entry to win.
Philadelphia, PA (PRWEB) February 26, 2015
YieldSelect has rapidly grown to be recognized as an up-and-coming, industry-leading advertising network. Headquartered in Philadelphia where it operates an unrivaled customer support model, the company will be launching their first-ever Publisher Competition titled, "March Adness." All publishers have a chance to win an iPad Mini from March 1st-March 31st , 2015.
This competition will be open to all current publishers and new signups to the YieldSelect ad network. All publishers who are already a part of the YieldSelect network will be pre-qualified to enter. New publishers who join the YieldSelect Ad Network during the competition can be eligible as well. Running YieldSelect ads from March 1st 2015 to March 31st 2015 will automatically enter these accounts into the contest. For every $50 a site earns, you'll warrant yourself another entry to win. The entries will be randomized and the winner announce via YieldSelect's Social Media Profiles on April 7th.
"The chance to enter in this competition will be a huge incentive for all publishers. Not only can you win an iPad Mini, but you get bragging rights for the rest of the year and I look forward to hearing them," said Dennis Berscak, Senior Account Manager.
Yield Select has developed a network consisting of only the highest quality publishers, in turn attracting the attention of the highest quality advertisers. The company offers industry-leading CPM rates, an exceptional optimization team, dedicated account managers, and on-time payments. They enforce strict quality guidelines on their advertisers and publishers alike to ensure a clean browsing experience for their publishers' visitors. With those guidelines, they have been utilizing all of their resources to expand their offerings, giving their publishers the opportunity to make even more money from their sites and apps. Every account manager can easily be reached by phone or email. Emails typically receive responses within hours, or many times even minutes. They are there to help you every step of the way, along with achieving the highest possible CPM.
An application form, competition guidelines, and prize information will be available on the competition entry https://yieldselect.com/march-adness this March .