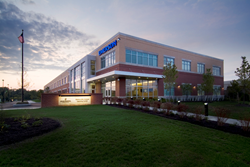 Columbus, Ohio (PRWEB) February 26, 2015
Emerson Network Power, a business of Emerson and a global leader in maximizing availability, capacity and efficiency of critical infrastructure, will host one of the world's premier data center industry organizations when The Green Grid® holds its Global Technical Committee Summit March 5-6 in Columbus. The Summit will bring some of the world's leading voices in IT and data center efficiency to Emerson Network Power's Learning Center to address issues related to driving efficiency across the open information and communication (ICT) ecosystems.
"We are proud members of The Green Grid, but our relationship is much deeper than that," said Scott Barbour, executive vice president, Emerson, and business leader, Emerson Network Power. "We share a commitment to pursuing more efficient technologies and practices in the data center and across the entire ecosystem of information and communications technology – that is what allows us to continue to deliver innovative products, services and solutions to our customers. We're excited not only to host this international event, but to take a leadership role in these important conversations."
The Summit is expected to cover a variety of topics related to data center efficiency, including data center life cycles, metrics for capacity utilization and efficient cooling technologies.
Emerson Network Power is a recognized thought leader in the data center industry. Its 2009 Energy Logic white paper introduced a revolutionary approach to reducing data center energy consumption, a 2011 study with the Ponemon Institute quantified the costs of data center outages and established an industry-accepted benchmark for those costs, and last year, Emerson's Data Center 2025 project generated a global, industry-wide exploration of the data center of the future. Most recently, Emerson announced details on The Helix, an innovation center and research facility that will be built to advance research and product development of data center thermal management technologies and controls.
Emerson Network Power's Learning Center itself is a model of efficient building practices, with a number of environmentally-friendly construction and design elements contributing to Gold level LEED (Leadership in Energy and Environment Design) certification.
For more information about The Green Grid's Global Technical Committee Summit, visit http://www.TheGreenGrid.org. For more information on Emerson Network Power, visit http://www.EmersonNetworkPower.com
About The Green Grid
The Green Grid Association is a 501(c)(6) non-profit, open industry consortium of information and communications technology (ICT) industry end users, policy makers, technology providers, facility architects, and utility companies that works to improve IT and data center resource efficiency around the world. With more than 200 member entities globally, The Green Grid offers the data center expertise that governments turn to for industry insight and counsel, bringing to bear the combined influence of a diverse body of ICT industry leaders. The consortium's vendor-neutral dynamic creates a rich, collaborative environment of peers, competitors and industry experts that work closely together to advance the organization's mission.
About Emerson Network Power
Emerson Network Power, a business of Emerson, delivers software, hardware and services that maximize availability, capacity and efficiency for data centers, healthcare and industrial facilities. A trusted industry leader in smart infrastructure technologies, Emerson Network Power provides innovative data center infrastructure management solutions that bridge the gap between IT and facility management and deliver efficiency and uncompromised availability regardless of capacity demands. Our solutions are supported globally by local Emerson Network Power service technicians. Learn more about Emerson Network Power products and services at http://www.EmersonNetworkPower.com.
About Emerson
Emerson, based in St. Louis, Missouri (USA), is a global leader in bringing technology and engineering together to provide innovative solutions for customers in industrial, commercial, and consumer markets around the world. The company is comprised of five business segments: Process Management, Industrial Automation, Network Power, Climate Technologies, and Commercial & Residential Solutions. Sales in fiscal 2014 were $24.5 billion. For more information, visit http://www.Emerson.com.