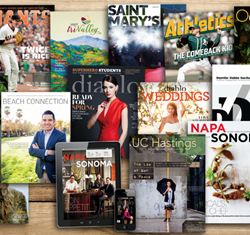 Our entire team is very excited about the ESOP and their new roles as owners — Barney Fonzi, President, Diablo Publications
Walnut Creek, CA (PRWEB) February 24, 2015
Steven J. Rivera, founder of Diablo Publications, proudly informed employees at the end of 2014 that the company was being sold to its employees through an Employee Stock Ownership Plan (ESOP), making Diablo one of only a few employee-owned media companies. As part of the transition, Rivera became the Chairman of the Board, and Group Publisher, Barney Fonzi, was promoted to President of Diablo Publications.
"Our entire team is very excited about the ESOP and their new roles as owners," says Barney Fonzi. "We are fortunate to have so many committed and loyal employees, and a brand so entrenched in our community and with our industry partners. The best possible outcome was to turn Diablo Publications over to its employees, who will continue to build on our accomplishments."
Founded in 1979, Diablo Publications has grown from a single original newsprint magazine, Diablo magazine, to a full print and digital publications company that produces products for itself and for external clients. In 1990, Diablo Arts was created in partnership with the Lesher Center for the Arts. In 1991, Diablo Custom Publishing (DCP) was formed, providing complete print and online marketing communications and custom publishing services. Clients include the San Francisco Giants, the Oakland Athletics, Visit Tri-Valley, and a multitude of corporate clients nationwide, including top-level organizations in the health care and higher education industries, as well as in arts and entertainment, sports, and technology.
In 1996, Diablo Publications acquired San Francisco Focus magazine and changed its name to San Francisco magazine. The publication was subsequently sold in 2005. Additional Diablo Publication launches include: Concierge East Bay in 1991, and Destination Oakland Visitors Guide and Concierge Wine Country in 2001, shortly followed by the acquisition of Vine Napa Valley magazine, whose name was changed to Napa Sonoma. Most recently, Diablo launched the City Book Series in 2012 and Diablo Weddings in 2015.
Mr. Fonzi also stated, "For over 35 years, Diablo magazine has been a mainstay of the East Bay community, serving as a kind of town square where people go for information, entertainment, and interaction. Selling the company to the employees, who have been responsible for its success, ensures that Diablo Publications' commitment to its core values of top-notch editorial, design, and project management will remain strong in the years to come."
There are roughly 9,000 ESOP–owned companies in the nation, representing roughly 3.5 million employees. Survey data shows on average, employee-owned firms perform substantially better than nonemployee-owned firms when ownership is combined with employees' participation in decisions affecting their work.
About Diablo Publications
For 35 years, Diablo Publications has been creating award-winning publications, including Diablo magazine, Napa Sonoma magazine, Concierge Wine Country, the Diablo City Book Series, Diablo Arts, Diablo Weddings, Concierge East Bay, and the Tri-Valley California Visitors Guide. Covering travel, theater, lifestyle, and home design, Diablo Publications celebrates the people, places, and pleasures of the East Bay and North Bay. Diablo Publications' custom content division, Diablo Custom Publishing (DCP), provides complete print and online marketing communications and customer publishing services for corporate clients nationwide. For more information, visit diablomag.com or dcpubs.com.