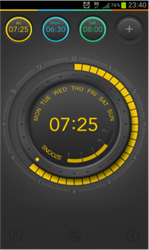 "Mobile interaction design is still in its infancy," said Ievgen Liashchenko. "Old perspectives from desktop are holding us back, and so with Alarmix, I wanted to start from scratch when designing how people use it."
New York, NY (PRWEB) February 25, 2015
Gasmind, a software company founded by human interaction designer Ievgen Liashchenko, announces Alarmix, an alarm app for Android and iOS devices that has been designed to be as quick and simple to use as possible. By completely rethinking the app, Gasmind was able to create an alarm app that can be set with a single touch.
"Mobile interaction design is still in its infancy," said Ievgen Liashchenko. "Old perspectives from desktop are holding us back, and so with Alarmix, I wanted to start from scratch when designing how people use it."
Alarmix is the first app that brings a one-click approach to mobile alarm clock mechanics. The app challenges the existing relationship between function, design and live interaction among today's utility apps through its intuitive design concept.
Staying true to its functional, efficient approach, Alarmix's interface methodically works to reduce the total number of screen taps a user makes, and keep all information and controls available without making it too cluttered. Users can seamlessly navigate all of Alarmix's functions from a live screen, which presents the app's entire settings on a single page. With a swipe or tap of a button, options such as snooze, alarm time and more can be adjusted directly from the home screen, saving users from unnecessary actions.
Alarmix offers a simple, unique and intuitive alternative that puts user experience at the crux of both function and design.
The Alarmix App is available for free for Android and iOS devices.
Download the Android version on the Google Play Store:
https://play.google.com/store/apps/details?id=com.gasmind.alarmix&hl=en
Download the iOS version on the App Store:
http://itunes.apple.com/us/app/motionx-sleep/id505074676?mt=8 .
About Gasmind
Founded in 2014 by UX designer Ievgen Liashchenko, Gasmind is a product oriented software company with broad expertise in client and server solutions. Gasmind's mission is to introduce a clearer, more concise user interactions through efficient software development to the software market. Challenging the industry standard for design, the company believes in concepting a perfect, human-interactive design experience to heighten efficiency. Gasmind is located in Kiev, Ukraine.