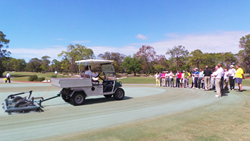 Naples, Fla (PRWEB) February 25, 2015
Quail Creek Country Club hosted 30 students from the PGA Golf Management program at Florida Gulf Coast University on Monday, Feb. 23. These students are enrolled in the Turfgrass Management Operation class and received an onsite presentation about the changes made to turf during a renovation.
Quail Creek Country Club completed a Club-wide multi-million dollar renovation which included updating the irrigation and re-grassing of both of the Club's the 18 hole golf course.
Golf Course Superintendent, Kevin Leo, provided an overview of the new irrigation system that was installed and explained why the Club choose to go with Celebration bermudagrass. Leo stated, "The reason for using Celebration bermudagrass is the level of tolerance it has for cold weather, shaded areas and drought resistance."
Leo went on to explain the three key points that Quail Creek Country Club focused on for the renovation: playability, accessibility and visual appeal. Those three elements shaped the direction of the type of grass used and irrigation system installed.
About Quail Creek Country Club
Quail Creek Country Club is the premier, private, member-owned country club in Naples, Fla. Featuring two Arthur Hills-designed golf courses, a comprehensive tennis program, beautiful fitness and spa facilities, fine dining in the gracious clubhouse and a bustling social program, Quail Creek Country Club delivers the true country club experience. Membership is open to individuals who reside both inside and outside of the community. In fact, 70 percent of members do not live on campus. Quail Creek Country Club sets a new standard for the country club lifestyle.