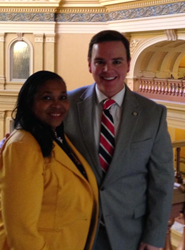 "This smart tax policy lowers the cost of healthy eating and lowers the tax burden for all Kansans."
Kansas City, KS (PRWEB) February 24, 2015
Legislation to make fresh food more affordable in Kansas has been filed by Senator Michael O'Donnell, R-Wichita, and Senator Oletha Faust-Goudeau, D-Wichita.
Senate Bill 263 would eliminate the state tax on fruits and vegetables, encouraging Kansans to make healthier choices, supporting local farmers as well small business owners who lose business across state lines.
Lowering the sales tax on fresh fruits and vegetables will improve the health of all, said Sen. Michael O'Donnell, R-Wichita. "This smart tax policy lowers the cost of healthy eating and lowers the tax burden for all Kansans."
Research indicates higher fruit and vegetable prices lead to increased obesity and make it even more challenging for many families to eat healthy.
"We are thinking about the long term impact on the citizens of Kansas. We need to improve our health, improve our way of life, and encourage healthy habits that will reflect in our healthcare costs. This is what is best for the future of Kansas," Said Senator Oletha Faust-Goudeau, D-Wichita.
The change can make a difference for thousands of Kansas children, as a recent Kids Count report from Kansas Action for Children estimates 21% of children under age 19 are living below the federal poverty level.
Furthermore, one in seven Kansans experiences food insecurity (22.5% of all children in the state), which means they may have limited access to enough nutritionally adequate food for an active, healthy life.
At 6.15%, Kanas' sales tax is second highest in the nation. Only Mississippi has a higher tax on food. County and city governments can levy additional taxes, bringing the total as high as 9% in some areas.
A 2014 statewide survey shows that 86% of Kansans support eliminating the sales tax on fruits and vegetables. The level of support was similar across age, income, education levels and political leanings. The Kansas General Public Survey was funded by the Kansas Health Foundation and designed and analyzed by RTI International, an independent nonprofit research firm based in North Carolina. Data were collected from 2,203 adult Kansans via landline and cell phone interviews from May 12 to August 18.
KC Healthy Kids was founded in response to the obesity epidemic and works to improve the health of Greater Kansas City's children. The nonprofit is leading efforts during the 2015 legislative session to help families pay less and eat healthier starting in 2015.
For 10 years, KC Healthy Kids has been dedicated to improving the health of Greater Kansas City's children. Our policy work and programs address school nutrition, community engagement and youth advocacy. We engage kids, school professionals, civic leaders, farmers, food purveyors, health care professionals, urban planners, bike/walk advocates, and other non-profit agencies to accomplish our work. To learn more, please visit kchealthykids.org.