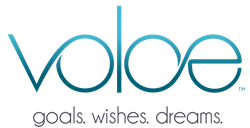 Irvine, Calif. (PRWEB) February 25, 2015
Voloe (http://www.voloe.com), a first-of-its-kind social networking website, is now accessible on the go by downloading the new Voloe iOS and Android app. The unique social network, which launched in July of 2014, facilitates learning about friends and family members by encouraging users to list and share, goals, dreams and aspirations with others. By using Voloe, the power of crowd sourcing and social media combine to help users realize and achieve their own goals. Voloe users can also give back and pay it forward by helping others accomplish their own dreams and life-long ambitions.
The Voloe app utilizes the same concepts, contests and features website users are familiar with, displayed in a clean, user-friendly format. The result is a better mobile user experience, with richer graphics and a new way to reach out and either assist or be assisted in reaching goals, all from the convenience of your favorite mobile device.
Voloe developed the app to help people do something positive when spending time on social media. Voloe users spread kindness and participate in a community that is motivated by turning fellow users' dreams into reality.
"The Voloe app is another step forward in our movement to utilize social media for a greater good," said Voloe founder, Andy Firoved. "We hope that with the new app dreams are realized and more connections are established between users that result in accomplished goals."
At launch, Voloe dedicated nearly $1 million in prizes to help users accomplish their goals and wishes. To date, Voloe giveaways have included concert tickets, airline vouchers, and cash, with each helping a user cross a wish off of their list.
To be a part of the Voloe movement, visit http://www.voloe.com and download the app via the App Store or Google Play.
ABOUT VOLOE
Voloe is an online network designed to help you make a list to then share with friends and family. Making others aware of your goals, wishes, and dreams will give them meaningful knowledge into who you are and how they can support you. Voloe's theory is that social media could be used for this greater purpose. We believe so strongly in our theory that we commit to award nearly $1.0 million in estimated value to Voloe users to help prove it. For more information please visit: http://www.voloe.com
###