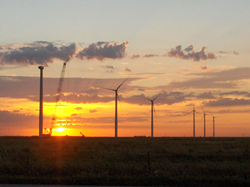 Since the beginning of our nearly 15-year relationship, Mortenson has constructed over 3,300 megawatts of wind power with EDF Renewable Energy.
Minneapolis, MN (PRWEB) February 25, 2015
Mortenson Construction's Wind Energy Group today announced its selection as EPC contractor to build the Slate Creek Wind Project by long-term partner, EDF Renewable Energy. Located in Geuda Springs, KS, the Slate Creek Wind Project will consist of 75 Vestas 2.0 megawatt wind turbines. The project marks the 26th wind project Mortenson will construct for California-based, EDF Renewable Energy and the sixth project to be built in Kansas.
"Since the beginning of our nearly 15-year relationship, Mortenson has constructed over 3,300 megawatts (MW) of wind power with EDF Renewable Energy in a very successful partnership," stated Tim Maag, VP and general manager of Mortenson's Wind Energy Group. "We look forward to returning to Kansas with EDF Renewable Energy and continuing to contribute to the growth of this industry together." Mortenson built the 100-MW Spearville III wind project for EDF Renewable Energy in 2012 and the 100-MW Spearville I project in 2006.
Construction on the 90-square mile site will begin in May with expected completion in December 2015. Mortenson will be responsible for the construction of the access roads, foundations, operations & maintenance building, turbine erection and underground electrical collection system. Approximately 150 new jobs will be created during the peak construction of the Slate Creek Wind Project which will provide power for more than 45,000 homes per year upon completion.
About Mortenson Construction
Founded in 1954, Mortenson Construction is a U.S.-based, family-owned construction company. Ranked as the 25th largest contractor in America, according to Engineering News-Record, Mortenson provides a complete range of services, including planning, program management, preconstruction, general contracting, construction management, design-build and turn-key development.
Since entering the renewable energy market in 1995, Mortenson Construction has become the leading builder of wind power facilities in North America having constructed more than 140 wind projects. In addition to wind power, Mortenson's Renewable Energy Groups also constructs facilities that generate solar power, high voltage transmission and distribution and provides support services for operations and maintenance (O&M) facilities. Mortenson has offices in Chicago, Denver, Milwaukee, Minneapolis, Phoenix, San Antonio, Seattle and Toronto. For more information, please visit http://www.mortenson.com/wind.