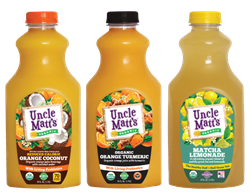 "We're very excited about the launch of these three new flavors," says Matt McLean, CEO. "Our partnership with Ganeden and their GanedenBC30 probiotic is exciting and gives our customers the ability to support their digestive health and immune system."
Clermont, Florida (PRWEB) February 25, 2015
Uncle Matt's Organic, best known for their line of premium organic orange juices, today announced the launch of three new organic juices: Orange Turmeric, Orange Coconut and Matcha Lemonade. And, for the first time, Uncle Matt's will be offering probiotics in the Orange Turmeric and Orange Coconut juices, powered by GanedenBC30, which is also used in the leading brand of kombucha. Uncle Matt's Organic will be sampling these new items at Natural Products Expo West in Booth 2313.
The Organic Orange Turmeric juice contains 500 mg. of turmeric per serving, which is an ideal way to "drink" your daily supplement. Turmeric is known as an inflammation-fighting, disease-fighting spice, and pairs nicely with Uncle Matt's organic orange juice. The Orange Turmeric also contains 1 billion living probiotic cells per 8 oz. serving and 120% of the RDV for Vitamin C.
Uncle Matt's reduced calorie Orange Coconut also contains GanedenBC30 probiotics and delivers the refreshing taste of orange juice paired with coconut water, all for 70 calories per serving, which is 36% less calories than regular orange juice. Uncle Matt's Orange Coconut also contains B Vitamins and boasts natural electrolytes and Vitamin C, making it a better choice than flavored coconut water.
"We're very excited about the launch of these three new flavors to our family of organic, healthy beverages," says Matt McLean, CEO and Founder of Uncle Matt's. "Our partnership with Ganeden and their GanedenBC30 probiotic is exciting and gives our customers the ability to support their digestive health and immune system with a probiotic that delivers cultures more effectively than yogurt."
Uncle Matt's Organic's new Matcha Lemonade is made with a blend of organic Matcha green tea and our delicious organic homestyle lemonade. Matcha boasts ten times the antioxidants of regular green tea and is loaded with catechin EGCg, which is most widely recognized for its cancer fighting properties.
"Our Matcha Lemonade is an answer to our customers for a beverage with real perks," McLean adds. "We believe the Matcha has a myriad of health benefits that make it a great choice to pair with our organic lemonade. It's truly the perfect pick-me-up with real health benefits."
Offered in family-friendly BPA-free 59 oz. packaging, Uncle Matt's new juices are gluten-free and have no added ingredients, flavors, or preservatives. And as with all of Uncle Matt's products, each is grown and produced without the use of synthetic pesticides, herbicides and fertilizers.
For more information, please contact Glen Garrity, National Sales Manager at (352) 394-8737 or glen(at)unclematts(dot)com.
About Uncle Matt's Organic
Uncle Matt's Organic is a Florida-based, family-owned company offering premium quality organic citrus juices and organic produce. All Uncle Matt's products have no synthetic additives or preservatives. Produce and finished products are produced under the strict regulation and guidelines of Quality Certification Services, the largest and most respected organic certifier in Florida. Products are available in health food stores and at Whole Foods and other supermarkets nationwide. The company is an active member of Organic Trade Association (OTA) and supports the Organic Farming Research Foundation and the Rodale Institute. To learn more visit http://www.unclematts.com or join the community on Facebook at http://www.facebook.com/unclematts.
About Ganeden Biotech
Founded in 1997, Cleveland, Ohio-based Ganeden Biotech is at the forefront of probiotic research and product development with an extensive library of published studies and more than 100 patents for probiotic technologies in the food, beverage, animal health, and personal care ingredients markets.
Ganeden is best known for GanedenBC30® (Bacillus coagulans GBI-30, 6086), its patented, FDA GRAS probiotic ingredient found in more than 85 leading food and beverage products around the world. GanedenBC30's physical properties make it more stable than traditional probiotic organisms (such as Lactobacillus and Bifidobacterium). It is able to survive baking, boiling, freezing and pressure; does not require refrigeration; survives gastric acidity; and has up to a three-year shelf life. GanedenBC30 is ideally suited for almost any food, beverage or companion animal application. For more information about GanedenBC30, please visit GanedenBC30.com.