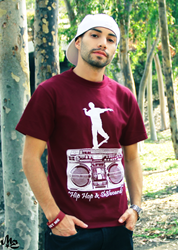 "My movement is about having fun while empowering people and inspiring them to overcome all obstacles in order to achieve greatness for themselves and for others." -Jo-E The Mastermind Hyphenate
Los Angeles, CA (PRWEB) February 24, 2015
A talented and influential artist has emerged from among Los Angeles' underground hip hop scene. A movement of his own, Jo-E the Mastermind Hyphenate has been recognized as a leader, on and off the mic, by the city that raised him. He has received a Certificate of Commendation from the city of Los Angeles for his efforts as a hip hop artist making a positive difference within the community. With a versatile sound that fuses and connects underground with mainstream hip hop along with real life lyrical content that is reminiscent of conscious early 90's hip hop, the LA native is best known for his ability to connect with his audience on a passion filled, emotional level. Jo-E the Mastermind Hyphenate's powerfully moving debut album "Fighter" is set to be released on June 13th, 2015.
Since the release of his first single "Doubt Me" in 2008, which happens to be his motto, The Hyphenate's support base has increased exponentially to include a vast range of music lovers representing most genres. The Hyphenate is an independent artist who has been featured on popular websites, radio stations, and podcasts that include The Berrics, Shade 45 Radio, The Steve Austin Show, and many others. He produces his own beats, writes his own lyrics and films his own music videos. Some tracks are personal and introspective, while other tracks are light and entertaining. Across the board, the Hyphenate is an open book allowing supporters access into his personal life through his music. He engages his audience as he walks them through his own experiences expressed in many of his songs; The balance is felt with every track released.
"My One Shot," the first of its kind Hip Hop talent show hosted by Sway, international radio personality, will be holding auditions all across the nation. This competition will open many doors for those entrants who shine and will offer a major record deal to the overall winner. The Hyphenate is preparing for the April 11th Los Angeles live audition by bringing his lyrical genius to hopefully be the one chosen to represent the city he was born and raised in. The competition will be televised and heavily promoted through social media. Follow in the Hyphenate's journey to greatness by visiting http://www.TheMastermindHyphenate.com for more details. Every step of his rise from a young emcee trying to find his way to the 25 year old business man of many hats will be shared with new and old supporters on any and all of his social media platforms.
"My movement is about having fun while empowering people and inspiring them to overcome all obstacles in order to achieve greatness for themselves and for others." -Jo-E The MasterMind Hyphenate
The "Fighter" LP is set to release this summer and Jo-E the Mastermind Hyphenate plans to kick off his world tour with his first performance in none other than Los Angeles, California on October 10th during a concert benefiting youth centers across the US. The next step for The Hyphenate is to spread his positive message to the world one supporter at a time, aiming to touch the hearts of those who were told they wouldn't amount to anything by inspiring them to believe in themselves and their dreams.