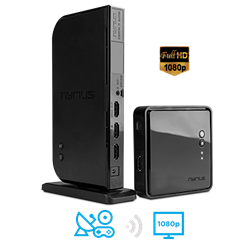 (PRWEB) February 25, 2015
The ARIES Home+ gives users the freedom to easily and seamlessly stream uncompressed 1080p HD content from a user's Blu-ray/DVD player, digital cable box, satellite receiver, laptop, or gaming console.
The new ARIES Home+ features include 2x HDMI inputs which allow users to connect two sources, such as a cable box and PS4, to the transmitter and switch easily between them without the need to disconnect one when not in use. Additionally, the new loop-through feature allows users to stream the same content on one HDTV to another in two different areas of the home, giving users the ability to stream the same content in two different environments.
The plug and play ARIES Home+ transmits a long range signal through walls, ceilings and floors from up to 100 feet in real-time with zero latency. Additionally, it streams surround sound audio and is 3D compatible to accommodate for advancements in home entertainment.
Also included in the ARIES Home+ is an infrared extender. The included extender allows users to control the device from any area of the home with ease. Change channels, pause movies or adjust volume by simply pointing the remote control at the receiver and pressing the corresponding remote control's button. This allows users to hide HD devices or relocate them to an optimal location in the home without compromising functionality
For more information on the ARIES Home+ and all of Nyrius' innovative products, visit Nyrius.com
About Nyrius®:
Nyrius® is a North American-based company that focuses on higher-end lifestyle electronics and gadgets. Established in 2003 and based in Niagara Falls, Ontario, it markets to both USA and Canada. Nyrius® products are sold through various distribution channels, which include mass merchants, electronic retailers, warehouse clubs, home improvement retailers, office supply retailers, direct response television, mail order catalogues, direct, online retailers, and through distributors worldwide. Nyrius® products are stylish, cutting edge, and lifestyle improving. A fundamental part of our mission is to design products of exceptional quality while also reducing our carbon footprint. NYRIUS® products can be found on http://www.Nyrius.com.