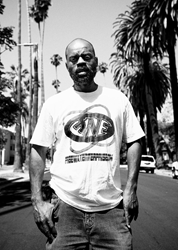 His story is a cautionary tale stemming from the life he lived as a drug kingpin to convict, but it also is a message of hope stemming from the new freedom he found in recovery. Many people in the audience were brought to tears."
West Palm Beach, Florida (PRWEB) February 26, 2015
Author, lecturer and recovery advocate "Freeway" Rick Ross recently addressed staff, alumni and clients of New Objectives treatment center in West Palm Beach, delivering an inspirational message about the possibilities for life available to those who choose to leave drugs and alcohol behind and start a new life.
Ross speaks from personal experience as a former drug addict who became a key player in dealing crack and cocaine in the Los Angeles area. Ross, whose full name is Ricky Donnell Ross, got his nickname from the vast freeway network in Los Angeles, where he managed to export tons of cocaine, which made him an income well into the millions. After a checkered drug career that included government officials involved in the Iran-Contra scandal during the presidency of Ronald Reagan in the mid-1980's, in 1996, Ross was sentenced to life imprisonment upon his conviction of purchasing cocaine from a government agent. Eventually his sentence was reduced after additional information discovered by a newspaper reporter resulted in a court appeal. Because Ross was a model inmate, he entered a drug rehabilitation facility in 2009. Upon his release, he began the work of lecturing and educating others to inspire them to lead a drug-free life and contribute to society in a positive manner.
As a youth, Ross wanted to pursue a career in tennis. The late Arthur Ashe, a world renowned tennis professional, was his role model. When he lived in south central Los Angeles, he tried for a tennis scholarship but was not able to pursue it because of his illiteracy. Instead of a dreamed-of tennis career, Ross became involved in selling cocaine for someone he met at a job center. Ross now channels his energy into helping young people to pursue their passions without falling into a destructive pattern, as he did.
"We are honored to have a powerful speaker of this caliber come to New Objectives," said Dr. William Romanos, Jr., New Objectives Medical Director. "Our staff and our clients, past and present, benefited from hearing Rick Ross's message. His story is a cautionary tale stemming from the life he lived as a drug kingpin to convict, but it also is a message of hope stemming from the new freedom he found in recovery. Many people in the audience were brought to tears."
The central theme of Ross's speech is telling his audience that the mistakes of their past do not have to dictate their futures. He also discusses ways to turn self-doubt into self-motivation and stresses the importance of having role models.
"Find people who live the kind of life you want to live," he said. "Study them. Read up on them and find out what they did to become successful. Learn about their likes and dislikes. Once you find out, you can start to imitate their positive patterns. That's what I have done with my role models, and you can do it, too."
About New Objectives
New Objectives is a drug and alcohol treatment center in West Palm Beach committed to helping people who suffer from the disease of addiction reclaim their lives. An experienced and highly trained team of professionals works with clients and their families to determine the best path to recovery. The center provides high quality treatment for substance use and co-occurring disorders. For more information, please visit http://newobjectives.com.