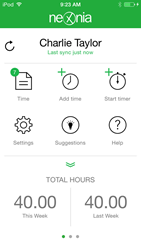 I'm confident that our customers will be delighted with our new Timesheets mobile interface.
Toronto, Ontario (PRWEB) February 25, 2015
Nexonia Inc. has announced a completely new user interface for their Nexonia Timesheets mobile application. The modern and straightforward functionality will be presented in a new, visually-appealing, intuitive and user-friendly interface.
"Our customers frequently use mobile devices to log their time, so it's important to keep our apps very current and always fresh," said Neil Wainwright, CEO of Nexonia, "We wanted the Timesheets application to be fully functional and aesthetically clean and simple. We have certainly achieved that with this new UI."
Available as a free download in Apple's App Store or Android's Google Play Store, the latest version of the Nexonia's Timesheets application features a new centralized homescreen with all of the existing features Nexonia customers know and love. Seamless navigation from a user's timesheets to a stopwatch timer to personalized settings functionality are all now at a touch of a finger. The clean and intuitive design also allows Timesheets users to swipe left or right to quickly and efficiently see their logged hours by the week, month or even quarter.
"I'm confident that our customers will be delighted with our new Timesheets mobile interface," said Neil Wainwright. "We're always looking for new ways to delight our customers. As always, they'll still be able to create, edit and approve time entries from anywhere in the world on their smartphones and tablets, including optional GPS tracking, but with an enhanced overall experience."
Click here to watch a video of the latest Nexonia Timesheets UI in action!
To download a free version of Nexonia's Timesheets iOS or Android app, visit the Apple App Store or the Google Play store.
About Nexonia:
Nexonia Inc. is a provider of leading web and mobile applications, including Nexonia Expenses, Nexonia Timesheets, Nexonia Time Off, Nexonia Time Allocation, Nexonia Purchase Orders, Nexonia Accounts Payable and other business financial management solutions. Nexonia's simple to use and highly customizable applications are fully integrated with ERPs, credit cards and other systems supporting a variety of businesses. Nexonia solutions are designed to streamline the reporting and approval process, improve human resource management and enhance operational efficiency.
To receive more information, visit http://www.nexonia.com or call 800-291-4829.