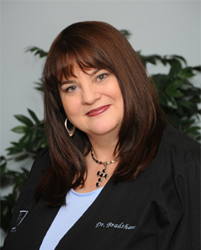 The Woodlands, TX (PRWEB) February 24, 2015
This February, Dr. Gayle Bradshaw of Bradshaw Periodontics is recognizing American Heart Month by teaching patients of the known links between gum disease and heart disease. Gum disease is estimated to affect 85 percent of adults in the U.S, and heart disease remains the number one killer for both men and women nationally. Dr. Bradshaw treats many patients in The Woodlands, TX with periodontal disease using the LANAP® protocol, an alternative gum disease treatment option that targets and eliminates the bacteria that cause gum disease.
Gum disease is a slowly advancing condition that many people do not even realize they have. It begins as gingivitis, which is characterized by tender, swollen and bleeding gums. In more severe cases known as periodontitis, the gums may begin to pull away from the teeth or recede, and teeth often begin to loosen and fall out. The sores that form along the gum line known as periodontal pockets are constantly open wounds that can allow for bacteria to enter the bloodstream. Some medical researchers believe that this bacteria may contribute to blockage and narrowing of the arteries. Additionally, many other medical researchers believe that the inflammation caused by the periodontal disease may also be a factor in arterial blockage and narrowing in The Woodlands, TX residents.
The LANAP® protocol is one tool that Dr. Bradshaw uses to quickly eliminate infection in the gums without causing unnecessary trauma to surrounding tissue. The doctor uses the PerioLase®MVP-7™, the first laser cleared by the FDA for use in gum surgery. This laser is specially calibrated to only eliminate diseased tissue while leaving all healthy surrounding tissue intact. The procedure can be done in just a few hours and patients often experience few side effects. Those who have undergone the protocol report minimal bleeding, minimal pain, less gum recession than traditional gum surgery, and a faster recovery time.
Patients in The Woodlands, TX who are in need of treatment for their periodontal disease are encouraged to contact Dr. Bradshaw immediately for treatment. Addressing their oral health concerns may prevent patients from experiencing heart disease complications in the future.
About the Practice
Bradshaw Periodontics is a periodontal practice offering patients personalized dental care for The Woodlands, Texas since 1998. Dr. Gayle Bradshaw graduated Magna Cum Laude in 1994 from The University of Texas Health Science Center San Antonio Dental School. Dr. Bradshaw and her family moved to Houston to complete her Master's Degree in periodontal surgery at The University of Texas Dental Branch where she completed her studies in 1998. In 2000, she earned her Board Certification from the American Board of Periodontology. Dr. Bradshaw is part of one percent of dental professionals providing the LANAP® FDA cleared laser procedure for gum disease and periodontal treatment. To learn more about Bradshaw Periodontics and their dental services visit their website at http://www.bradshawperiodontics.com and call (281) 377-8409.