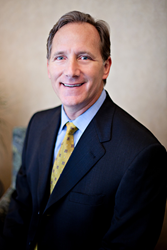 Naples, FL (PRWEB) February 24, 2015
Residents of Naples, FL who suffer from receding gums now have access to a minimally invasive procedure by leading periodontist Dr. Timothy S. Davis. Dr. Davis is proud to announce he is now certified to perform the Pinhole Surgical Technique™, an innovative gum recession treatment that does not require cutting and suturing, and can create a healthier smile in as little as one office visit.
Gum recession often occurs as a result of periodontal disease, but can be caused by a number of other factors as well. Aggressive brushing, poor oral hygiene and tobacco use can also contribute to receding gums. Many patients may not realize they have receding gums until they begin noticing sensitivity, or an uneven gum line. If individuals are experiencing these symptoms or have already been diagnosed with receding gums, Dr. Davis recommends scheduling a consultation to discuss individual treatment options.
Many doctors recommend tissue grafts to treat receding gums. A gum graft uses connective tissue that is removed from the roof of the mouth through a small incision and stitched to the affected area. Alternatively, a pedicle graft consists of a flap of nearby gum tissue, which is pulled over the exposed root and sutured in place. A successful grafting procedure results in the gums accepting the new tissue which begins producing collagen to support new growth, restoring oral health.
Dr. Davis has joined the minority of dental professionals who offer the new Pinhole Surgical Technique™, a state-of-the-art method that does not involve the pain and trauma of traditional gum graft surgery. He uses specialized dental instruments to make a tiny hole in the gums above the exposed root. The tissue is loosened and guided into place, and then collagen strips are inserted to support the gums while they heal. Most patients report feeling minimal discomfort the day after the procedure and are able to see immediate results before leaving the dental chair. In addition, multiple teeth can be treated in one visit to restore healthy gums.
Patients with receding gums are encouraged to schedule a consultation with Dr. Davis at his Naples, FL practice. To learn more about this advanced remedy for gum recession, individuals can visit Dr. Davis' website at http://www.naplesperiodontist.com or call (239) 330-4996.
About the Doctor
Dr. Timothy S. Davis has been practicing periodontics in Naples, FL since 1989. Dr. Davis specializes in periodontal diagnosis and treatment, laser periodontal treatment (LANAP®), dental implants, and cosmetic and regenerative periodontal surgery. He has extensive training and experience in all aspects of periodontal treatment. Dr. Davis graduated from the University of Nebraska Medical Center, College of Dentistry. He completed his General Practice Residency at Saint Joseph Hospital in Denver, CO and completed his specialty training in Periodontics at Louisiana State University Medical Center in New Orleans. Dr. Davis received the honor of being selected for "topDENTISTS" in 2011, 2012, 2013, 2014, and 2015. He was chosen by other dental professionals based on years of experience, education, manner with patients, use of new techniques and technology, and actual physical results. Dr. Davis is in the one percentile of dental professionals providing the most recent FDA cleared laser procedure (LANAP) for gum disease and periodontal treatment. To learn more about Timothy S. Davis, DDS, PA, and his periodontal services, visit his website at http://www.naplesperiodontist.com and call 239-330-4996.