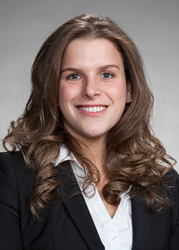 Denver, CO (PRWEB) February 25, 2015
Holland & Hart LLP attorney Nicole Day, in association with the Colorado Bar Association (CBA) Civil Rights Committee, will join a panel of experts discussing "Safeguarding Your Privacy: Data Security in a Digital World," at noon on Friday, Feb. 27, at the Colorado Bar Association.
The discussion will provide information on protecting personal data, strategies to mitigate risk while minimizing costs, current litigation topics, and common privacy and security-related issues companies need to navigate. CBA Civil Rights Committee member and Holland & Hart attorney Kevin McAdam arranged the panel of experts on privacy and data security and will moderate the program.
The panelists include:

Ryan Bergsieker – a former Assistant U.S. Attorney and current attorney at Gibson Dunn, specializing in information security and data privacy.
Denise Maes – a former White House staff member and current Public Policy Director of the ACLU of Colorado, specializing in privacy-related litigation.
Nicole Day – an intellectual property attorney at Holland & Hart, specializing in the internet and digital media, including privacy and information security.
Nicole Day counsels clients on intellectual property matters, including intellectual property commercialization, protection strategies, and acquisition and portfolio management. She guides clients through the complexities of privacy and information security, which include compliance with industry regulations and standards, use and disposal of personal information, implementation of security policies and procedures, and data security breach response.
Kevin McAdam advises clients on various commercial litigation matters, with an emphasis on financial services and securities.
The "Safeguarding Your Privacy" discussion is from 12-1 p.m. at the CBA offices, third floor, located at 1900 Grant Street, in Denver. Cost is $15 and includes lunch for those attending. RSVP by emailing lunches(at)cobar(dot)org, visiting the registration page, or by calling 303-860-1115 ext. 727.
–30–
About Holland & Hart
Holland & Hart LLP delivers integrated legal solutions to regional, national, and international clients of all sizes. Since its inception in 1947, Holland & Hart's team of 500 lawyers have consistently been recognized by leading national and international peer and industry review organizations for innovation and dedication to the practice of law. For more information, visit http://www.hollandhart.com.