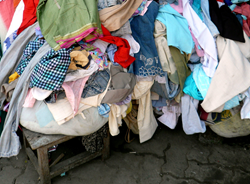 A very high incidence of malignant mesotheliomas… supports the hypothesis of diffuse asbestos exposure in rag sorting
Raleigh, NC (PRWEB) February 26, 2015
Rag sorters in the industrial province of Prato, Italy have one of the most dangerous jobs in the textile industry according to a newly-published report. Click here to read the full story on the Surviving Mesothelioma website.
Scientists with the Cancer Prevention and Research Institute in Florence, Italy, along with the Local Health Authority in Prato, analyzed the rates of mesothelioma and other asbestos-related diseases among textile workers there between 1999 and 2012.
"A very high incidence of malignant mesotheliomas… together with the high number of other asbestos-related diseases in rag sorters strongly supports the hypothesis of diffuse asbestos exposure in rag sorting," writes lead investigator Elisabetta Chellini.
The report, published in the Annals of Occupational Hygiene, found 172 mesothelioma cases among textile workers in the region. Almost a quarter of them were rag sorters from Prato.
"Although this study was conducted in Italy, it should serve as a warning for workers everywhere that even employees in industries not typically associated with asbestos-exposure cannot take their safety for granted," says Alex Strauss, Managing Editor of Surviving Mesothelioma.
For the details of the study and more on the job of rag sorting, see Higher Mesothelioma Rates Found in Textile Workers, now available on the Surviving Mesothelioma website.
Chellini, E et al, "Malignant Mesothelioma in Textile Rag Sorters", February 10, 2015, Annals of Occupational Hygiene, Epub ahead of print, http://annhyg.oxfordjournals.org/content/early/2015/02/19/annhyg.meu114.abstract
For nearly ten years, Surviving Mesothelioma has brought readers the most important and ground-breaking news on the causes, diagnosis and treatment of mesothelioma. All Surviving Mesothelioma news is gathered and reported directly from the peer-reviewed medical literature. Written for patients and their loved ones, Surviving Mesothelioma news helps families make more informed decisions.