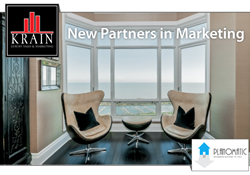 "The quality and support provided by PlanOmatic are in sync with the level of marketing and high-touch service that we demand to stay on top in this competitive marketplace."
(PRWEB) March 03, 2015
Having opened just ten years ago, KRAIN Real Estate has already become a leader in the Chicagoland community with the purchase, sale and rental of real estate. Its founders, Peter Breitlander and John Federici, have been given the Top 1% Producer Award from the Chicago Association of REALTORS(R) five years running, and they were also featured in the 2013 and 2014 Who's Who Edition of Chicago Agent Magazine. Through a comprehensive program of internal education and personalized training, KRAIN Real Estate has continued to put a major focus on the professional development and success of its Brokers.
In addition to these investments in human capital, KRAIN Real Estate also sets itself apart with its unique approach to marketing. This progressive brokerage boasts a new cutting-edge website, a dedicated Marketing Manager, an in-house Graphic Designer and complimentary property marketing for its Brokers. KRAIN Real Estate has partnered with PlanOmatic to provide professional photography, interactive floor plans and other industry-leading marketing tools that will further enhance and streamline the KRAIN Property Marketing Program.
"KRAIN is excited about this new partnership," said John Federici, Principal and Broker at KRAIN Real Estate. "The quality and support provided by PlanOmatic are in sync with the level of marketing and high-touch service that we demand to stay on top in this competitive marketplace."
"KRAIN Real Estate represents the type of brokerage we want to work with," says Aaron Rose, VP of Corporate Accounts at PlanOmatic. "They are progressive, they value quality in everything they do, and they understand the need to evolve as the real estate industry is constantly changing. PlanOmatic is thrilled to partner with KRAIN Real Estate, and we look forward to succeeding in our partnership."
Founded in 2005, PlanOmatic offers full-service photography and interactive floor plan tours in regions across the United States. Headquartered in Denver, CO, they are best known for their high quality photography, superior customer care and for being a technology leader in the industry. PlanOmatic offers an array of real estate business solutions including their proprietary PhotoPlan division. For more information, visit PlanOmatic.com.