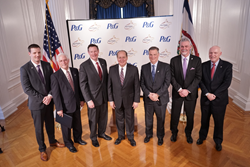 We've worked to create a business climate that makes West Virginia a national and global competitor for new investments, and companies around the world are noticing.
Charleston, WV (PRWEB) February 25, 2015
Gov. Earl Ray Tomblin released the West Virginia Edge Business Report, highlighting the state's economic progress. The February 2015 report features projects and announcements from businesses, both large and small, that play a critical role in the Mountain State's continued economic growth.
Highlights in the February issue include a major announcement from Procter & Gamble; ratings from credit ratings agencies; midstream oil and gas supplier opens new facility; technology company releases facial recognition system; and West Virginia businesses join the state's Development Office International Division in building trade relations at a construction show.